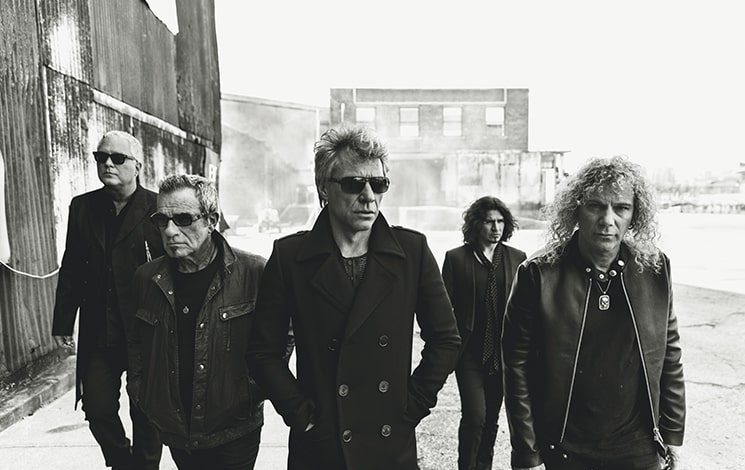 Bon Jovi veröffentlicht ihr Live-Album "This House Is Not For Sale" – Live From The London Paladium
Bon Jovi sind immer wieder für eine Überraschung gut: Nachdem die Band gerade erst ihr gefeiertes Album "This House Is Not For Sale" veröffentlicht hat, steht jetzt bereits der nächste musikalische Paukenschlag an. Für den 16. Dezember 2016 haben Bon Jovi ein neues Live-Album angekündigt.
Die Aufnahmen stammen vom Konzert in London aus dem Oktober 2016, bei dem Bon Jovi "This House Is Not For Sale" in voller Länge performten. Da die Band von dem Konzert selbst so begeistert war, entschieden sie sich kurzerhand den großartigen Live-Mitschnitt als eigenständiges Album zu veröffentlichen. Seit dem 25. November ist "Live From The London Palladium" bereits vorbestellbar.
Mit "This House Is Not For Sale" brachten Bon Jovi im Oktober ihr 14. Studioalbum auf den Markt und zeigen darauf ihren ganzen Facetten-Reichtum, sowohl musikalisch, als auch inhaltlich: Mitreißende Melodien, gitarrenlastige Parts, Jon Bon Jovis rauchige Stimme und Songs, die wahre Hymnen sind. Auch nach all den Jahren spielt die Band aus New Jersey in der Rock-Liga immer noch ganz oben mit.
Quelle/-Bildquelle: Universal Music Group