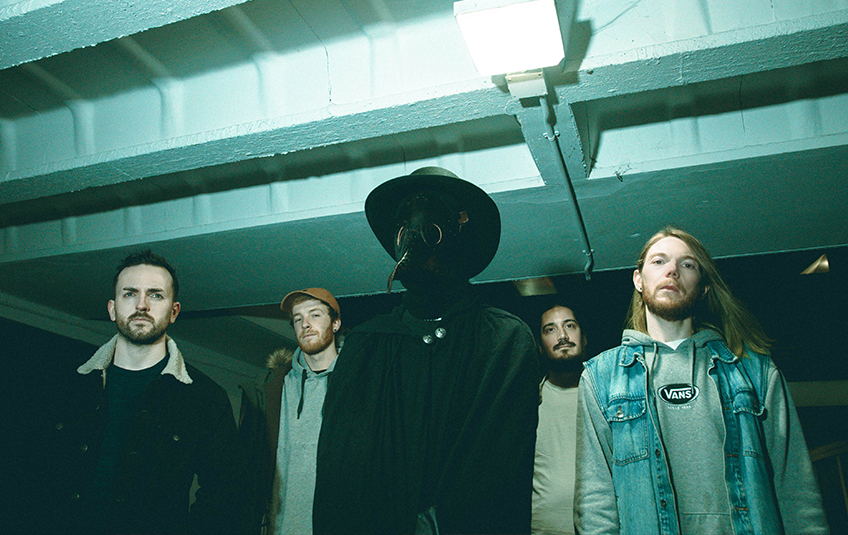 Palps enthüllen ausdrucksstarkes Album "Black Heart"
Hi and welcome to Lila's review!
Kennt ihr das.. Wenn ihr euch eine neue Band anhört und direkt das Gefühl bekommt, dass das ein Sound ist, der euch so schnell nicht mehr loslässt? Genau dieses Gefühl bekam ich als ich mich in die neue Platte "Black Heart" von Palps .
So it's no wonder that our magazine also published a review to coincide with the album's release.
Palps sind eine vierköpfige Band aus Essex, UK ,  die mit ihrer ersten EP "Letters To You (That I've Never Send)" die ersten Zeilen ihrer Bandgeschichte niederschrieben. Mit einem uniquen Alternative Rock Sound werden Einflüssen aus dem Pop Punk und Metal verbunden, welcher Palps will hopefully soon pave the way to much larger stages.
Mit "Black Heart" veröffentlicht die Band nun ein ausdrucksstarkes Werk, auf dessen Release sich Fans der Band freuen dürfen. Beim Anspielen des ersten Songs "AVA" hat man zunächst das Gefühl das es sich hierbei um ein klassisches Alternative Rock Album handelt, mit harmonischen Passagen und eingängigen Melodien, doch Palps schlagen mit ihrer Musik eine ganz eigene Richtung, fernab von bekannten Tönen ein, die uns echt überrascht hat: Sobald die Stimmen in der Bridge mit "AVA" zu einem Chor erklingen, bricht der Sound und wird düster sowie energisch. Allein für diesen Cut in ihrem Sound, der sowohl direkt als auch harmonisch ist, hat die Band von uns ein Chapeau verdient! Auch in den anderen Songs wird dieser charmante Stil aufgegriffen und mit Refrains zum mitsingen verbunden, wie in "Love, Always". Einen besonderen Ausdruck verleiht die Stimme des Sängers Alex ihrem Sound, welcher förmlich angestaute Emotionen einfach in die Welt hinausschreit. Ungeschönt und ehrlich erzählt die Band in den acht Songs über inneren Zwiespalt, Verlust sowie Liebe, in dessen einzelnen Passagen ihr euch sicherlich wiederfinden werdet.
Palps have come up with something special for this album and tell in eight chapters the story of Matt, who tries to lead a normal life next to his mental problems. The band writes:
"Black Heart at its core is about how traumatic events and mental health struggles can leave you hardened, no longer able to express love in the same way that you used to and can often lead to you hurting those closest to you, without you even realising."
The band tells Matt's story in eight consecutive music videos, which introduce three other characters, Rose, Charlotte and the Plague Doctor, around him. In each video you follow Matt and the dichotomy he is in, trying to feel and being numb at the same time. At the same time, they also show the pull of his negative thoughts that hold him down and also weigh down those around him. It is a cycle that the band presents in all its facets and draws attention to it.
"Black Heart" regt zum Nachdenken an und zeigt sowohl die Seite der Angehörigen als auch die des Leidtragenden, die in jeglicher Situation machtlos sind und nicht wissen wie sie damit umgehen sollen. Ein Rennen gegen die Zeit, und wer gewinnt? Das solltet ihr euch unbedingt selbst anschauen, wozu ihr hier mit dem ersten Video starten könnt.
The band has worked out a holistic concept for their album, the extent of which we couldn't believe when we played the first song. It is not only very coherent, musically as well as lyrically, but also thematically a really strong album, which we can only recommend you to listen to. Save the date: 07 October!
Lila is out, be the beat with you!