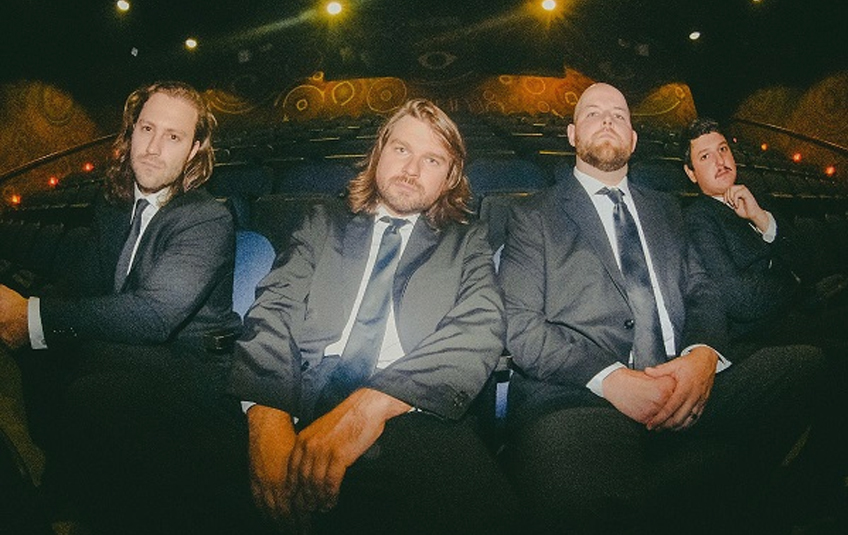 Born Without Bones veröffentlichen neues Werk "Dancer" am 04. November
Hi and welcome to Lila's review!
Born Without Bones unleash three years of passion in the form of their latest album "Dancer" which will be released this Friday. With their incomparable, warm punk sound, the band welcomes you on a journey celebrating the individuality of each of us as human beings.
Versatile, this is how Born Without Bones can be described, whose sound cannot be categorised. Between a melodic indie and alternative sound, you will discover energetic rock mixed with a strong punk attitude. A common characteristic, which stands out as their distinctive feature, is their basic honesty and openness, which is transported to the listener through their songs. Born Without Bones keep this property in their new album "Dancer" too, expressed through the eleven songs.
Their new album presents a more personal side of the band, into which they have poured three years of their time and energy. With their unique sound, you get to experience a band that has improved and refined its own music. Louder songs follow quieter ones, big wake-up songs follow danceable tunes with strong emotions. "Dancer" seems to have the right song for every moment, which is why fans of the band in general, but especially those of you who are in the mood for something new, should not miss this album. Regarding the concept, singer and guitarist Scott says:
"Wir haben drei Videos mit einer Dinnerszene gedreht. Das Konzept sieht vor, dass in jedem der drei Videos eine der drei Töchter unserer 'Familie' die Hauptrolle spielt, während sie ihre eigenen Interessen und Wege einschlagen. Die Dinnerszene bildet den Rahmen für die Geschichte, in der jede der drei Töchter ihren eigenen Weg gehen kann. In der ersten Folge begleitet ihr die Figur der Dancer auf ihrer Reise durch Worcester, MA, auf der Suche nach Akzeptanz. Verfolgt in den kommenden Wochen, wohin sich ihre Schwestern Bee und XO nach ihrem Sonntagsdinner aufmachen".
Further, he adds:
"Bei diesem ersten Song schrieb ich die Strophe und den Refrain, und als ich dann über den Text nachdachte, begann ich, mir diese Figur vorzustellen: die Dancer. Ich stellte mir eine Person vor, die ihr Zuhause verlassen hat, um zu versuchen, sich einen Platz in der Welt zu erobern. Sie fand sich an einem Ort wieder, an dem sie für das geschätzt wurde, was sie tat, und nicht dafür, wer sie war. Ich dachte, dass Dancer vielleicht in der Wüste aufgewachsen ist, einem kargen Ort, an dem man wirklich nach Leben suchen muss. Sie war weggegangen in der Hoffnung, zu entkommen und an einem Ort zu sein, der vor Leben strotzt. Vielleicht waren ihre Eltern verstorben und hatten ihr das Haus, in dem sie aufgewachsen war, in der Wüste hinterlassen. Sie hatte auf ihrer Reise nie wahre Liebe oder Akzeptanz gefunden, weil sie nicht wirklich auf etwas zugelaufen war, sondern weggelaufen war. Sie beschließt, zurück in das Haus zu ziehen, das sie geerbt hat, und es ist nicht klar, ob sie sich ihren Dämonen stellen oder ihnen erliegen wird".
"Dancer" is accordingly a theme album about life at its most important moment. It follows three daughters who are just trying to go their own way and shows that versatility is what defines us. Each of us takes a different path, makes other choices, and attempts to discover our place in the world. The work focuses on the listener and inspires reflection.
We can only give you a clear recommendation for the new album by Born Without Bones that convinced us not only with its sound, but also with its style. Our insider tip at this point is their song "Bar Harbor", which closes the record in a fitting manner.
You can order the album here: "Dancer" Album.
Photocredit: Daniel DeRusso
Lila is out, be the beat with you!