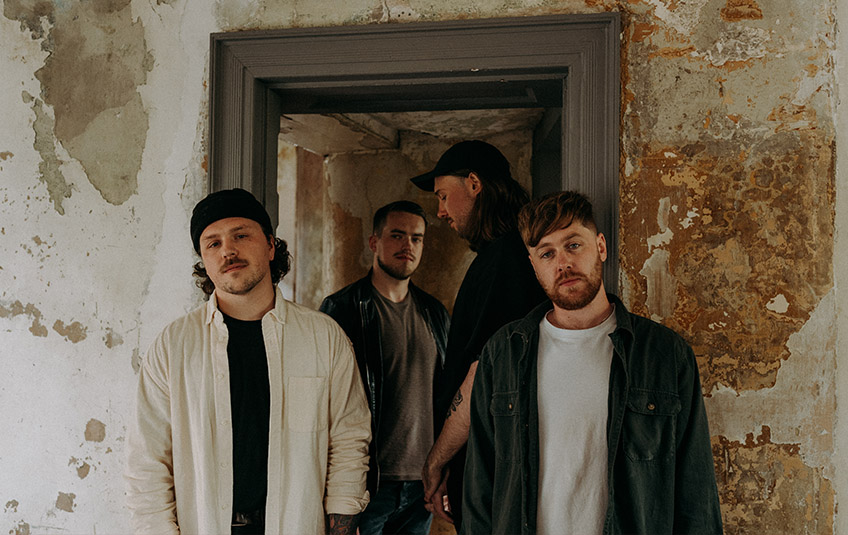 Acres unveil their second album, "Burning Throne," on March 03.
Hi and welcome to Lila's review!
Knock, knock? "Burning Throne" is knocking on your playlists.
On March 03, Acres will release their second studio album,Burning Throne", unveiling a fresh post-hardcore sound that fans can look forward to.
Acres are a post-hardcore/metalcore band from the south of England. Formed in 2011, they have released three EPs and one album within a decade. Especially their album "Lonely World" gives insight into their versatile sound universe, which is mainly characterized by spherical melodies and anthemic choruses. Now fans can look forward to another work from the band that has honed their sound over the pandemic.
"Burning Throne" combines this spherical sound with strong rhythms that let you literally drift between post-hardcore and metalcore. Strong awakenings meet dramatic melodies here, which pull you deeper and deeper into the unreal atmosphere of the album. Already in their debut album Acres showed their sensitivity for well-balanced soundscapes, now they go one better with their latest work: each song is tuned to the other and merges smoothly into each other. They also manage to keep the balance between energetic and emotional songs, which is especially noticeable from "Burning Throne" to "Visual Hallucinations" . Acres thus shows both an impressive development as a band and additionally releases an album that makes listening to it an intense experience. Guitarist Alex Freeman tells about the album:
"I'm very proud of this record, but it wasn't easy to make it. I had to teach myself how to write on my own again. And knowing that everything depended on me was pretty nerve-wracking. But I feel like the pressure of the album and the frustration of being isolated due to the pandemic allowed me to create a vibe that I've been wanting to explore with Acres for a long time, and I'm really excited about the result."
The pandemic is a factor that influences many bands to this day. Acres , for example, had to postpone their tour to the end of the year due to psychological and financial reasons, so they used this break to warm up with Dayseeker in May. That this frustration, which has accumulated over the pandemic, also seeks its way before, show songs like "Into Flames", with which the feelings are literally washed away by the music. Singer Ben explains:
"Into Flames is about having everything you love taken away from you. During the pandemic, everyone's lives were turned upside down and this song is about the fear of the unknown and wondering if things will ever be the same again."
The music video for the song was supported by Lewis Cater, who has also worked with All Time Low, Hot Milk as well as Sum41, among others.
Acres have released with this second album a work, which will once again pave their way to bigger stages. It is versatile and certainly offers the right song for each of you to switch off and enjoy.
Lila is out, be the beat with you!