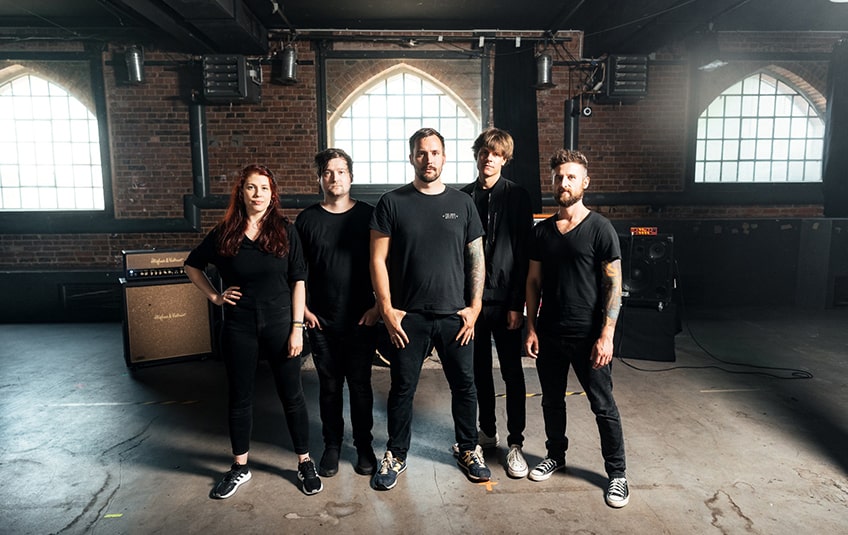 Blaufuchs release expressive punk work "Daran es nicht scheitern"! - Our insider tip
Hi and welcome to Lila's review!
"Several hundred demonstrators and protesters from the far-right Reichsbürger milieu...This is a global issue...This is all wrong...We will not be intimidated...We will not disperse...Several bullet holes..."-excerpt from "Intro".
It's crazy. Our society has been at a standstill because of the pandemic, which has affected us in all sorts of ways. So many events have hit us that you might wonder what movie you've landed in. That this, despite the flood of problems, must be addressed Blue Fox show with their latest album "It won't fail because of that", which was released today via Aggressive punk production .
After three years of pandemic-related break, the band reports back and summarizes the pent-up feelings of the last time in their latest work. Even though the quintet had to face some challenges in the past, like line-up changes or problems with the studio, at this point it was now more than ever, which is also reflected in their album.
For those who don't know Blue Fox , here's a little summary: From Hidelsheim in Germany, Blue Fox play German punk rock for the big stages, with which they have built a solid fan base beyond their home country. With their sound, the band celebrates life, simple feelings and memories packing them into a classic punk rock sound that encourages you to sing along. Blue Fox lives for the music and would also make a good atmosphere on one or the other festival - we think of Rock am Ring here.
With the title of the album "It won't fail because of that" the band sends a clear message to the world, but also to their fans, who can look forward to new material from Blue Fox in the future. Their work is accompanied by various topics, be it political like National Socialism which they want to counteract with the support of organizations like "No go for Nazis" . But also personal feelings as well as moments are taken up in the album and told to the fans without big cinema. That their words nevertheless transport a flood of feelings through their directness, fans of the band can confirm. It has accumulated with Blue Fox a lot that they now let out their latest work. You should definitely listen to it.
In addition, the album is rounded off by various collaborations. In "Failure" you can look forward to a somewhat more serious number with Cosmo Thunder , a longtime friend of the band, whose rough uneven voice harmonizes very well with that of singer John . Variety is also provided in the song "Arrived" , in which Wisecracker inspires with his trumpet. On the album's wake-up call "Don't worry" , Joshi from ZSK and Rodi from 100 Kilo Heart go off together with Blue Fox and have written an anthem for German punk rock with this song, which is also one of our favorites of the album.
Here is a statement of the band (translated):
"We are currently experiencing the negative effects of nationalism on a daily basis. However, the experience of war and flight from the Western perspective in the media can still be too easily turned off. In parallel, conspiracy believers are organizing and claiming the streets for themselves. You can't defend yourself against this alone, which is why it's so important to organize."
Blue Fox has released an expressive record that you should not miss as our insider tip for the weekend. "It won't fail because of that" is an album that gives courage and draws attention to really important problems that should also be addressed by politics. That the culture is usually faster, is no secret. By the way, you can buy the album here.
Photocredit: Blaufuchs
Lila is out, be the beat with you!