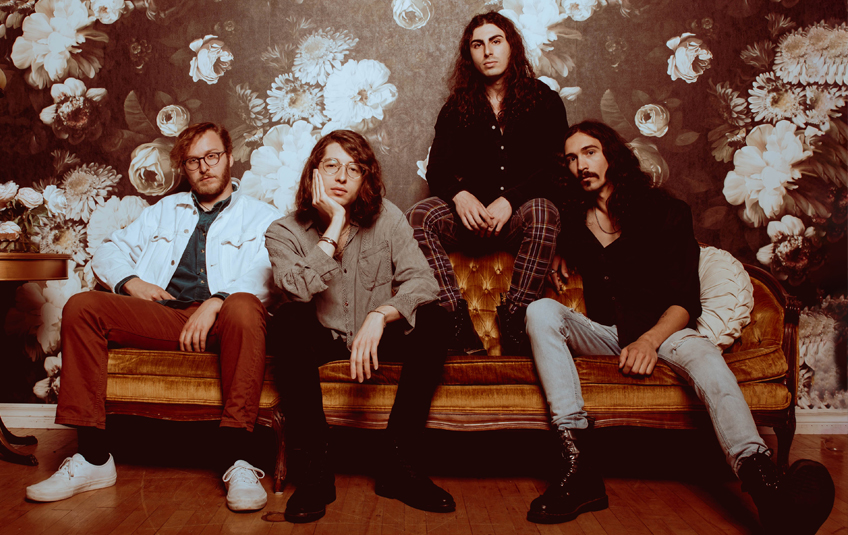 BRKN LOVE surprise with new album "Black Box" + Our "Album Of The Month
Hi and welcome to Lila's review!
"... There's a generation of angered youth torn apart by all of this shit going on in the last couple of years. If anything, rock has never been so relevant."
Never before have our youth been so angry and upset as they are today. Corrupt politicians who don't listen to you and know better, while our planet is being destroyed from within. The future looks bleak just by looking at all the predictions of what it will be like here in ten years. On top of that, our young people are struggling with the previous oppression of mental problems, which is also intensified in the wake of other challenges. It all sounds pretty crap - to put it in a nutshell - and that's where the new album of BRKN LOVE .
BRKN LOVE is a band that was born purely out of passion. At 16, founder Justin (vocals/guitar) left his home country Canada and first moved to New York. From New York he went to Los Angeles, where he recorded his first debut album with producer Joel Hamilton, who also worked with Highly Suspect . The potential of this band was expanded with the addition of drummer Russel Holzmann, bassist Nick Katz and guitarist Kyle Duke. After a performance in New York in 2019, a record deal with the Finnish label Spinefarm Records was signed. Deservedly, because BRKN LOVE is what we call "the new big thing" in rock music.
With their new album "Black Box" the band calls for rebellion from the deep darkness, supported by their incomparable rock sound. Down to the slightest note, the album is filled with passion, which expresses itself in melodic as well dynamic riffs and catchy tunes. There is hardly any room to catch one's breath before the band comes around the corner with another strong song. It is precisely this demanding, sometimes rage-fuelled sound that is said to be the passion that makes "Black Box" so special. Energetic and above all in their usual rough tone BRKN LOVE mixes classic rock with alternative, rock'n'roll and underpins these with light 80s vibes as well as harmonious pop. Especially recommendable are songs like "Little Black Box", with which you also start into the album, as well "Under The Knife" and "Spell".
On their new album, the band deals with various themes that all revolve around life. It is about self-acceptance, growing from challenges while learning from them, and going one's own way. The fact that we keep facing stones that block our path and that we ourselves can also be these stones is something we have to come to terms with. "Black Box" symbolises all the inner demons we have to face and presents them differently in the individual songs. But it is this accumulation of different emotions that gives the listener the feeling of being able to release them through their music, which is shouted out into the world unbound by the band. Their new album offers support and hits the nerve of the time with its sound. Justin tells us:
"In a time when mental health is at the forefront, rock is so important because it's raw, direct and blunt about what it stands for and the feelings it evokes. It is a great outlet because it is loud, heavy and cathartic. The punk attitude is coming back, and guitar music has come full circle. There's a generation of angry youth that's been torn apart by all the shit that's happened in recent years. If anything, rock has never been more relevant."
For us BRKN LOVE is not only a band that is meant for music, but also reaches people with it and represents a voice for a new generation. We were more than convinced by "Black Box" which is why it absolutely deserves the title "Album Of The Month".
You can order the album here: "Buy Black Box.
Photocredit: Daniel Dorta
Lila is out, be the beat with you!