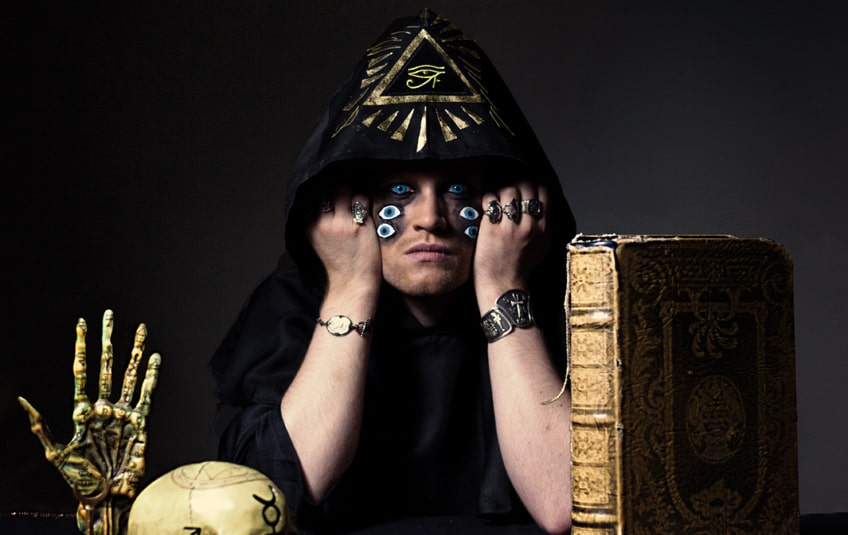 Dan Brooklyn releases impressive debut "The Great Beast" + A retrospective of Aleister Crowley
Hi and welcome to Lila's review!
"Oh Mr. Crowley,
as it is already sung in the infamous song by the Prince Of Darkness himself, Aleister Crowley was a personality who still occupies us after his passing through his appearance and actions at that time. Too many stories and myths surrounding what the occultist and writer practiced in the late 19th century, which is why he often is associated with "Satanism", which prompted many bands, besides Ozzy Osbourne, to take up the topic.
But who is this figure of horror who creates such a big aftershock upon his death? This question is addressed by the album "The Great Beast" by musician Dan Brooklyn, which celebrates its debut with this one on 01 December.
Dan Brooklyn is no stranger to music and has already toured Europe as a drummer for the band Athanasia. Since his early childhood, the musician felt a connection to everything spiritual, occult and mystical. He transforms this influence, which may already be keeping some people awake, into something unique and extraordinary and feeds it into his music. The result is a mixture of death metal, metalcore and goth that is tailor-made for him.
With his debut album, the musician presents an impressive work that illuminates the concept, the life of Aleister Crowley, from different perspectives and has musically internalized it. Each song tells its own story, which, similar to the individual perspectives, incorporates different elements that make the album just as versatile as the myths surrounding Aleister Crowley himself. From angelic choirs to brute guitar riffs and atmospheric passages that highlight Dan 's raspy voice, you can be prepared for almost anything. It's dynamic, melodic and creates a dark, sinister mood in every track that lets you share a bit of the story. Dan has managed to balance a themed album with presenting his own identity as a musician, which, especially as a debut work, sets the bar extremely high for further albums. We have no doubt that Dan will be able to surpass this in his next records.
Athanasia's Caleb Bingham (formerly of Five Finger Death Punch), supported him in the work on the album, and together with Dan he looked behind the bizarre face of Crowley. The result is a retrospective that sees the light of day in celebration of the 75th anniversary of the occultist's death. He tells , meaningfully translated:
"Crowley was shunned by his God-fearing contemporaries, but celebrated as a pioneer and free thinker by the hippie culture of the 1960s and 1970s. But which of Crowley's many faces is his true one? Was he the misunderstood, free-thinking pioneer who paved the way for the Aquarian Age? Or was he a selfish, sex- and drug-addicted narcissist, as his critics suggest? Listen to "The Great Beast" and decide for yourself!"
His new album "The Great Beast" is definitely an authentic debut, which both musically elaborates Crowley's story and gives a first impression of where Dan wants to go in the future. Especially fans of experimental metal bands like Slipknot or greats like Parkway Drive, shouldn't listen away here. We can only recommend you to check it out for yourself. It's worth it!
Lila is out, be the beat with you!