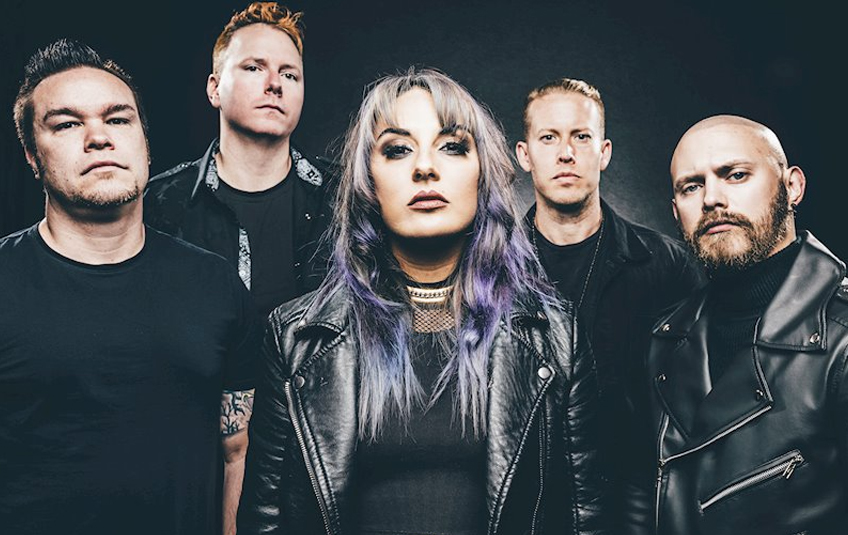 Eva Under Fire release long-awaited album "Love, Drugs & Misery" on 23 September
Hi and welcome to Lila's review!
Those who watched the new film "The Retaliators" were already allowed to anticipate the new album "Love, Drugs & Misery" from Eva Under Fire which will be released next week on 23 September. One more reason for us to listen to the band's new album and tell you about it.
In 2015, Eva Under Fire the band were found in Detroit consisting of Eva (singer), Rob Lyberg (guitar), Chris Slapnik (guitar), Ed Gawlik (bassist) and Corey Newsom (drums). Influenced by various metal and rock genres, their music is full of passion and energy, which they also put into their album. Fortunately, after the previously announced release in March, the long-awaited debut album of the power quintet is now in the starting blocks and lets us look forward to twelve selected songs.
"We really wanted to challenge ourselves with this record and focus on melodies and writing the best material that we could come up with. We really came up with the best of the best when it came to our songwriting. Some songs are fun, others are more emotional."
In their latest work "Love, Drugs & Misery", the band has once again brought out the best of their own blend: it is authentic, melodic and at the same time it always sweeps you along, where especially songs like "Death Of Me" wishes to hear the band not in stereo, but to see them live. Especially the first two songs, "Blow" and "Unstoppable", offer a successful introduction to the band's broad rock spectrum, which is opened with these. After that it goes straight on with a cover of the song "With Or Without You" from U2which we didn't recognise at first. Of course, this speaks for the band, who interpreted the song in their own version.
Short break and Eva Under Fire takes you withAnother Shot Through The Heart" directly into the mosh pit. Here, too, it goes on energetically and is accompanied by a touch of classic rock. What we particularly like about this album is the combination of different styles, which are skilfully combined by the band. This creates a sound that represents what the band stands for, versatility, but also gives their own style a name. Chris tells us about the album:
"My biggest influence is probably Deftones because they have such an innovative mix of sounds, and Eva's voice is so powerful that she can sing anything. The album is basically a mix of everything we all listen to from classic rock to modern metal". Eva erklärt dazu: "It's really a combination of a lot of different influences from all ends of the musical spectrum."
Eva Under Fire have created a successful start into their own music era with their new album and also let us look forward to future works with this one. The album features musicians like Jonathan Dörr (Ego Kill Talent) and From Ashes To New occur in order to Eva Under Fire just shows even more that this is a band you really should have listened to once and that you won't be able to get past them in the years to come. We can only recommend that you listen to the band's new album next Friday - it's worth it!
Lila is out, be the beat with you!