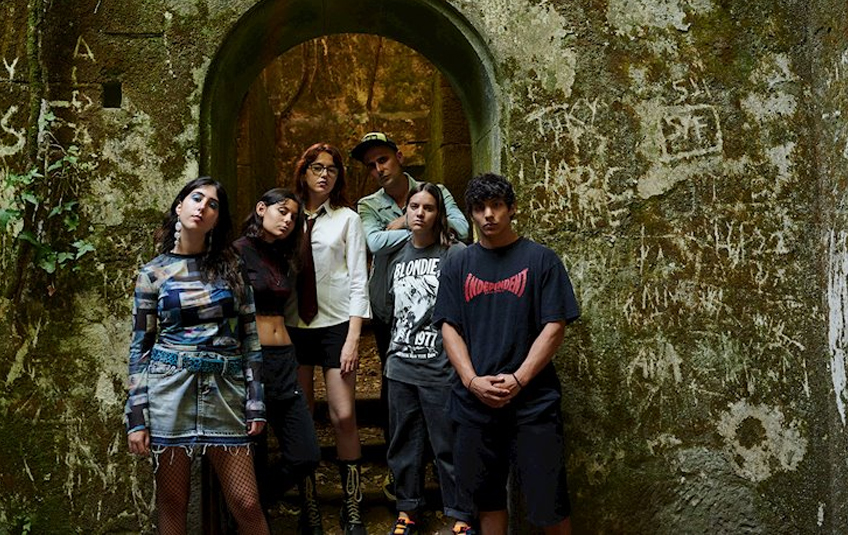 Furious Monkey House present third studio album "Oneiric" on March 17
Hi and welcome to Lila's review!
With a new generation, music is changing and genres are being reinterpreted. A band that especially wants to change rock music with their sound is Furious Monkey House, who will present their third studio album, "Oneiric", on March 17.
Furious Monkey House is composed of Mariña Paz Otero, guitarists Irene Esteban Teijeira and Manu Tomé, keyboardist Amaya Blanco Bello, drummer Carlota Montoya Robles and bassist/instructor (and monkey mask wearer) Gonzalo Maceira Hermida (aka El Mono Furioso). Since its inception eight years ago, the former high school band has evolved into an act that reflects the voice of a new generation with its relentless creativity as well as passion for music. Alternative rock meets dreamy indie rock, which is not afraid to strike harder notes sometimes. Especially the first albums, "Run" and "Love, Scum & Dust", speak for this as well as an international fanbase that is looking forward to the release of their latest album.
The band, which now consists of teenagers, you can notice the maturation process they have gone through from the last album to this one. "Oneiric" is calmer, more focused and combines their distinctive sound with modern influences. Both musically and thematically, the band takes this up, talking about the theme of escaping reality. Growing older, not losing oneself and facing the future at the same time are themes that are taken apart piece by piece in the individual songs. In "Oneiric" the band combines spherical pop with rock and a strong punk attitude. It's colorful, wild and combines indie with light grunge elements, which makes their music so distinctive. Furious Monkey House have created a versatile sound, which becomes an absolute earworm especially with songs like "Like A Bullet" .
The Furious Monkey House is going through a process with their new album can be seen clearly on their album cover, on which the band members are standing around a coffin. In this probably lies the monkey, the symbol of the band that should be buried with this album. In keeping with the title, everything is distorted and depicted like a dream.
A farewell, or a new beginning..?
Furious Monkey House make it clear with their new album where they are headed musically, but at the same time show an irrepressible, explorative sound that is committed to rock in the future and wants to combine it with new influences. "Oneiric" is fresh, intense and hits the nerve of the time with its sound. Furthermore, the band also reflects a generation that wants to be heard with their wishes as well as needs and likes to communicate this through music.
An absolute recommendation from us!
Photocredit: Chano Santiago
Lila is out, be the beat with you!