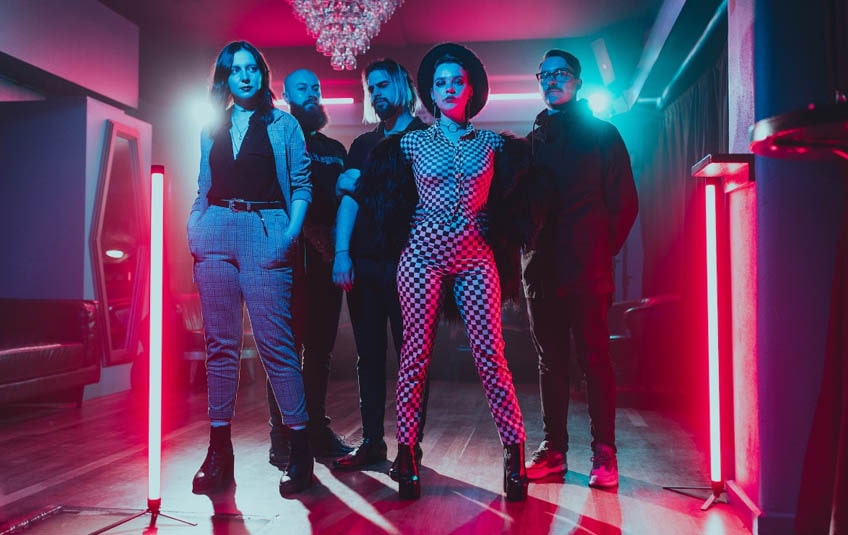 Future Static release new single and music video "Waves"
Following the announcement of their recent signings to Wild Thing Music Group in management and record deal with Wild Thing Records, Melbourne-based alternative heavy band Future Static have today released their new single "Waves" produced by Christopher Vernon (Belle Haven, Windwaker) and Sam Bianco (Loose End) - accompanied by a cinematic video shot and directed by Liam Davidson (Bad/Love).
"Waves" opens with massive drums and bursts into a wall of guitars and bass, paving the way for new vocalist Amariah Cook. As the track unfolds, structure and dynamics are navigated with finesse by the band's deft instrumentation, while Amariah effortlessly displays her full vocal facet.
Amariah describes the motivation behind "Waves": (meaningfully translated): "The song resonates with a lot of different experiences we've all had recently. From a whole lot of doing nothing to diving back into a fast, relentless rhythm without the certainty that anything will continue. It's all so overwhelming that you can't even think about it. It feels like diving into an ocean and not coming out, even though you know all you have to do is sit up, breathe and feel the waves."
Following her brave decision to move back to Melbourne from Barcelona at the age of 18, Amariah struggled to acclimatise and establish herself musically before joining forces with Future Static; finally fulfilling her lifelong desire to connect with a like-minded musical family to call her own. In turn, the band gained a dedicated female vocalist to spearhead their musical vision.
Amariah's debut performances caused a sensation, led by her charismatic personality, endless energy, spontaneous stagecraft and incredible skill at both hard and clear vocals, which have an inexplicable, timeless quality.
To coincide with the release, the band will be performing at Howler in Melbourne on Saturday 27 November alongside Bad/Love and Banks Arcade . They will also be playing the Knight and Day Festival in Ballarat, which also features Parkway Drive, Polaris, Trophy Eyes and Thy Art is Murder on the line up. In January and February 2022, they will tour the east coast for the inaugural Uncaged Festival, which will take place over three dates in Brisbane, Melbourne and Sydney. Other bands at the festival include Wolfmother, Kingswood, Twelve Foot Ninja, Caligula's Horse, Circles, Dregg and many more.
Future Static have shared the stage with Windwaker, Stepson, Belle Haven and Casey (UK) in the past. The band's previous releases have been supported by triple j, triple j Unearthed, Spotify, as well as local radio stations and worldwide blogs.
After "Waves" , further singles are lined up for 2022, which will provide additional insights into the debut album planned for the second half of the year.
Press release: Head Of Pr
Photo credit: Liam Davidson / Lord Media