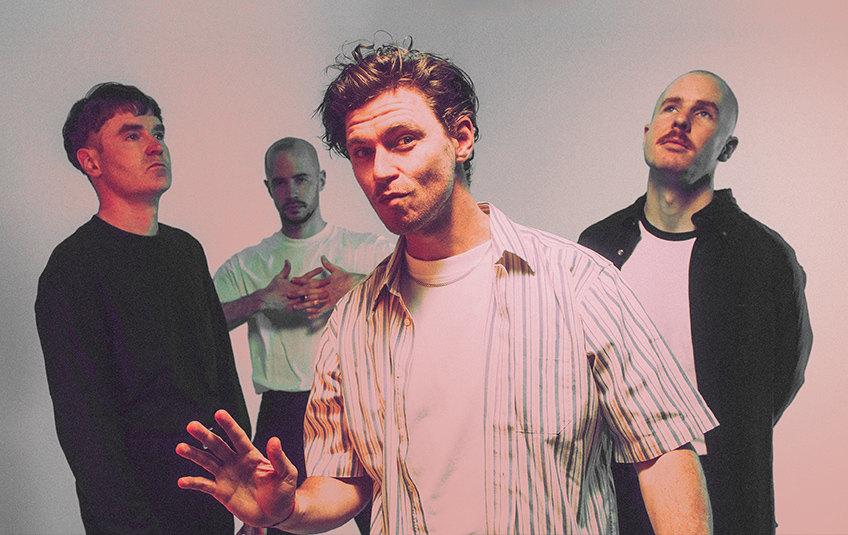 Mid City unveil their debut album "Happy Ever After" - Our "Album of the Month" for August
Hi and welcome to Lila's review!
Never give up, always keep going and above all have fun: Mid City bring this attitude to the playlists and living rooms of their listeners, who can enjoy their new album "Happy Ever After" soon - a versatile listening experience.
Our "Album Of The Month" for August.
Formed in Melbourne, Australians Joel Griffith (vocals), Ben Woodmason (guitar), Jimmy Campbell (bass) as well as Tim Woodmason (drums) have joined forces to create the music they have always missed in the industry: Catchy melodies with a lot of energy, in which you can find yourself. A year after their formation, the dream of the band also emerged, with one of their first singles, "Old Habits", landed a "Top 10 Most Played Songs" on Triple J Radio in their home country. But also in Germany the song was shared by celebrities such as Ollie Schultz and increased the awareness of the group. After a few singles and concerts, fans of the four can now look forward to their own album, which is titled "Happy Ever After" .
Starting with the eponymous first song, which also excitingly, announces the title of the album, abduct Mid City into their own world of harmonic changes, sensitive melodies as well as choruses that inspire you to sing along. For the title song "Happy Ever After" it took three years and 17 versions to create exactly the variant that captures the band's sound and represents how Mid City see themselves: "Always struggling and striving and hoping we can break out of our own situations and make something worth all of that."
Mid City founded a creative outlet within the eleven songs not only for themselves, but also for the listener. It's like a dialogue between the two, where memories and thoughts that have shaped oneself are exchanged: The bittersweet moments of life, in fact. It's all wrapped up in a light pop rock sound with elements of alternative rock and indie, making it the perfect mix for summer. Especially songs like "Choc Mint", which has already been released as a single, as well as "Change Your Mind" bring back the balmy summer nights. About the album tells Mid City :
"This thing has been so damn long coming. Obviously there was COVID but that's no excuse for semi-functional musicians like us. But we had become really concerned that people think we only release singles because we couldn't think of enough tunes for an album or something. Not true! We are just very very very picky about what we wanted to create....also we're broke as all heck. Time touring in Europe really informed what we wanted - playing some great festival stages and watching people react - or not - to the things we thought were important in creating the perfect hard hitting banger. What was surprising though was the quieter side we found on some songs. We always wanted the album to be a little journey, not just a 170bpm sweat fest but we didn't realise how satisfying it would be to create some songs with different tempos and feels. We're really proud of the balance we found between bangers and more heartfelt quieter moments. Perhaps we're maturing? I hope not."
Whether this is true, you can soon find out for yourself, because the band comes to Germany on tour! Soon you can welcome the band in cities like Cologne or Berlin, which is surely just waiting to introduce the album to you. Tickets you can find here.. For us, "Happy Ever After" is already an experience that we do not want to miss with its eleven songs from this summer. Absolute buy recommendation!
Lila is out, be the beat with you!