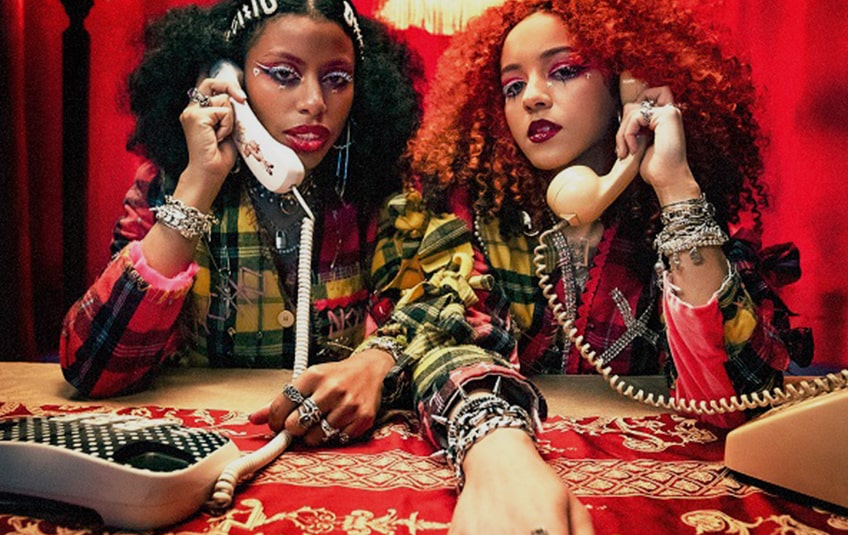 Explosive, dynamic, unstoppable: Nova Twins unveil second album "Supernova
Hi and welcome to Lila's review!
There are bands that are simply so unique that it's hard to find the right words for them. A sound that does not come from this earth and has shaken up the scene like a "Supernova" is Nova Twins.
Nova Twins Nova Twins consists of long-time friends Georgia South and Amy Love, who met in their teenage years in the local metal and rock scene. This is how the first songs, under the name BRAATS, came about, such as "Bad Bitches", under which the name changed to Nova Twins a year later. The two girls stand out, not only because of their neo-future punk attitude and their cross-genre DIY metal/punk/rap sound, which they call "Urban punk", but also because of their style and the fact that they want to change something in the music industry. They stand against racism, homophobia and xenophobia and make it clear that they rock the stage for their music and their fans and don't want to be booked for festivals because of their skin colour or because they are a female band.
On their second album, "Supernova", the band also goes full throttle. Unlike their predecessor, which combined their sound with a light rock-summer atmosphere, Nova Twins takes you to another galaxy on this album wrapped in a mixture of electro and FX. In the middle of the Milky Way and a war between the stars, the band performs the last act of the decisive battle with their album and wins with it against all the nay-sayers as well as haters. To give you an idea of what the whole thing looks like, here is their music video for "Choose Your Fighter":
From one song to the next, the atmosphere becomes more intense and the songs faster, so that there is no room to catch your breath. With songs like "Cleopatra, which was already hyped before the release of the album, "Fire & Ice" or "Toolbox", a mosh pit is guaranteed at the band's concerts. They recently toured Europe with Yungblud and are now visiting selected cities in Germany at various festivals. The band is also coming to Cologne once to make up for their concert from February at the Blue Shell. The small venue with the Nova Twins show - a demolition party.
What is special about this album is that the artists have managed to retain their very own sound, which was already present on their previous and debut album, and combine it with a new genre or theme. From rock to electro, which gives their music a completely different feeling than in their album "Who Are The Girls?" to manage such a change and at the same time keep the purest form of their own style is a masterstroke that we credit to Nova Twins .
The girls, they say, really put everything they had into their album to be able to present it to the world. Written in Pandemic times, it was released via Fever 333s, "333 Wreckords Crew", which, according to James Butler from Fever 333 , stands for:In my mind this community would thrive due to its unique focus on ethics, progressiveness, a symbiotic structuring and, of course, dope art."
Nova Twins is one of the voices of a new generation of musicians who, with their music and interpretation of rock and metal, are creating new paths for artists to follow. In addition, they also clearly put forward the ever louder calls for a society free of prejudice or hate and address precisely these issues for those who cannot do it themselves. With "Supernova", the band has now released their second album, and it is already clear that this may be the end of a star, but it is only the beginning of a new one. Nova Twins are unstoppable.
Lila is out, be the beat with you!