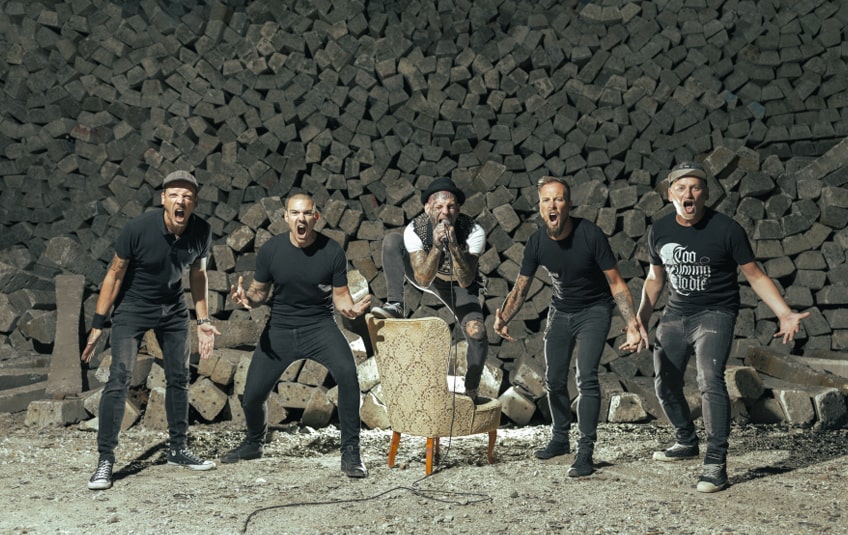 Punk, rock & freedom: How Unantastbar conquer German punk with "Wir leben laut"
Hi and welcome to Lila's review!
2023 it will be loud! At least, for Untouchable who start the new year with a huge bang. On December 30, the punks release their latest albumWe live loudand provide a year-end, which could not be nicer.
Untouchable have stood for a freedom-loving, unadorned punk sound for 18 years, telling about life with a lot of love for music. In their songs, they talk about personal experiences, write about the "what-if" moments and, above all, deal with one's own self, which quickly falls out of focus in our society. There's something special about Untouchable that also attracts their fans, whom, contrary to their name, they meet at eye level. Now, after the change to Napalm Records, the band not only announces a new era of their work, but also offers the appropriate soundtrack.
"We live loud" can be described as a concert visit, in which a selected repertoire of songs is played. It is an experience in which you go through an emotional journey with highs and lows, loud and quiet sounds. Their new album leaves room for pent-up feelings, for the great cinema as well as the wistful moments and divides them into 15 songs that together make a huge fireworks set. At the same time, the band also makes room for surprises, for rhythmic punk and a boiling mood that stands for departure and new beginnings. Untouchable not only set the tone here in the course of punk, but fill their album with various genres from alternative, rock to indie. About the process they mention (meaningfully translated):
"For weeks and months we have been tweaking riffs and rhythms, digging in our innermost, sinking for days and especially nights, pouring our souls outward and putting on paper what was hidden in the deepest. We created, argued, harmonized, discussed and reeled with joy. The result is 15 new Unantastbar songs: enthusiastic, powerful, inspiring, amazingly fresh, full of passion, loud and always real."
Their songs are definitely honest, especially in hymns like "Ich will euch wiedersehen". Those are songs that tell about life and that's what gives them their authenticity, which runs like a thread through the album. Longing, hope and the conflicts with oneself are in the foreground and are taken apart by Untouchable piece by piece. Fans can look forward to a band that, despite two decades of band history, does not think of stopping to create something new and yet also manages another time, loudly, to make the listener stand up.
As if that wasn't enough, there is a big tour through Germany and Austria with Willkuerstarting on the 23rd in Dresden. We are looking forward to be a part of this tour and see you at Essigfabrik, Cologne.
You don't have a ticket yet? Here we go.
Untouchable has created with their new album "We live louda work that is as honest as ever and detached from everything, reflects an unstoppable sound that finally wants to be carried out into the world. It is round, makes a good mood and above all gives you the feeling, especially when things are not going so well, to be home.
A recommendation from us, which we can only suggest to you!
Photocredit: Sascha Hein
Lila is out, be the beat with you!