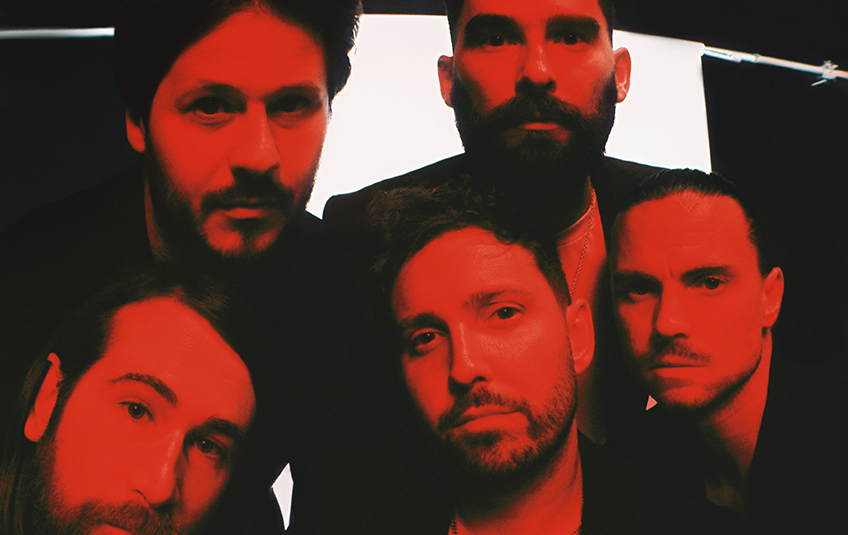 You Me At Six: New single / tour and album 2023 / Music Declares Emergency cooperation on "Truth Decay" - Release: 27.01.2023
To celebrate the release of the album, the band has teamed up with Music Declares Emergency to provide a very limited number of "Truth Decay" 'Decayed Versions' (all unique and handmade by the band). Made from recycled plastic and paint, a portion of the sales of this version will go to Music Declares Emergency's "No Music On A Dead Planet" campaign.
Josh says about the partnership:
"We wanted to do something fun for fans but also something that told the story about this record. So we decided to represent decaying records by spray painting and burning them and generally doing whatever we could without actually breaking them! It felt important to further the message with these and team up with the 'No Music On A Dead Planet' campaign who do great work to raise awareness of global warming and how the music industry can help steady the decline of the planet."
Music Declares Emergency adds:
"We are delighted to be working with You Me At Six on their new album release. As a band that has been unafraid to speak out on the climate emergency we are proud to partner with them on the limited edition version of 'Truth Decay' and hope their fans will enjoy the album and the message that there is No Music On A Dead Planet."
You Me At Six Live:
25.02.2023 - Essigfabrik, Cologne
27.02.2023 - Skaters Palace, Münster
28.02.2023 - Grünspan, Hamburg
01.03.2023 - Backstage Factory, Munich
07.03.2023 - Huxleys, Berlin
During the recording of "Truth Decay", it occurred to the band that if you don't know where you're coming from, you don't know where you're going. As the buzz around their second UK No. 1 album died down, Josh Franceschi (vocalist), Max Helyer (guitar), Chris Miller (guitar), Matt Barnes (bass) and Dan Flint (drums) got together and re-discussed their next steps.
Franceschi says:
"The album generally is the band doing all the things that we as a band think we're good at and just embellishing them and finessing those ideas and just trying to do retrospective, quintessential YMAS but in 2022 and give that a new lease of life. For us we saw people around us, our peers and some new blood coming through that were doing emo rock music again and we thought 'well we know how to do that and we want the world to know how we do it".
"Truth Decay" celebrates and pays tribute to You Me At Six as one of the greatest modern British rock bands, while charting their exciting path to the future.
With a clear sonic concept in mind, they experienced a creative blossom, with four or five song ideas taking shape each day during writing sessions. The album was then recorded by "VI" and "Suckapunch" producer Dan Austin at Black Rock Studio in Santorini.
You Me At Six are masters of their genre, representing pop rock and emo on a global scale, with two UK number one albums, including 2021's "SUCKAPUNCH," and four other top 10 albums. They have reached more than half a billion streams on all platforms, graced the covers of worldwide magazines, and had 18 singles on the BBC Radio One playlist alone, proving their mainstream appeal.
Press release: Raphael Schmidt-Kretz