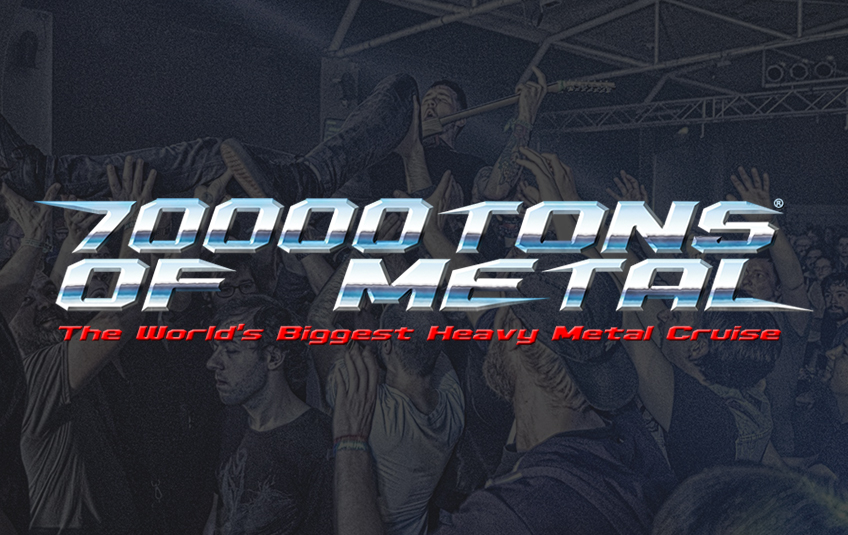 70000TONS OF METAL: Start of public presale on 30 November 2022
The public pre-sale for the 70000TONS OF METAL, The Original, The World's Biggest Heavy Metal Cruise, will begin on Wednesday, 30 November 2022 at 18:00 CET (or 12:00 EST, 09:00 PST or 17:00 GMT)..
Round 11 is scheduled to set sail aboard Freedom of the Seas from Miami, Florida to Bimini, Bahamas and back from 30 January to 3 February 2023 !
At this stage, the following bands are announced ABYSMAL DAWN, AMORPHIS, CYNIC, DECREPIT BIRTH, DESTRUCTION, EVERGREY, FALLUJAH, FIRETAIL, FRACTAL UNIVERSE, INSOMNIUM, JUNGLE ROT, KAMELOT, KORPIKLAANI, KREATOR, MǺNEGARM, MELECHESH, NIGHTMARE, NIGHTWISH, NOVEMBRE, OBSCURA, OCEANS OF SLUMBER, ROTTING CHRIST, SIRENIA, ULI JON ROTH, VISIONS OF ATLANTIS and WARBRINGER .
Each band will play twice on board. In addition to these 120+ concerts, the floating festival offers participants the Official 70000TONS OF METAL All Star Jam, meet & greets with each band, artist clinics and workshops, exclusive premieres on board and the chance to explore the Caribbean dream destination together with their favourite bands!
Ticket prices start at USD 966.00 plus taxes and fees per person.
The organisers of 70000TONS OF METAL have continued to announce a new partnership with Greentripper. Sailors attending Round 11 in January 2023 will have the opportunity to offset their CO2 emissions by purchasing a voluntary CO2 offset when booking. Greentripper Announced. Sailors participating in Round 11 in January 2023 will have the opportunity, offset their CO2 emissions by purchasing a voluntary CO2 offset at the time of booking.
Greentripper is an initiative of CO2logic, a reliable and responsible organisation with more than 12 years of experience in climate consulting and carbon offset project development. The projects supported by Greentripper and CO2logic comply with the strictest international standards, such as Gold Standard and VCS.
All projects are reviewed annually to ensure that a positive effect on the climate is actually measurable. Emission certificates are verifiably issued per tonne of CO2 actually saved. The certificates are registered centrally and it is strictly checked that they are only traded once.
You can find more information on 70000tons.com.
About 70000TONS OF METAL
70000TONS OF METAL is truly The Original, The World's Biggest Heavy Metal Cruise, with 60 metal bands performing on four stages aboard a luxury liner - including the largest open-air stage in the world's oceans!
Onboard Freedom of the Seas, guests enjoy never-close bars and lounges, included dining, 24-hour room service and a variety of onboard activities.
The five-day, four-night, Caribbean holiday metal festival, which has sold out ten times in a row, offers 3000 metalheads the unique opportunity to party side by side with 60 world-class heavy metal bands.
Every band plays twice and all fellow travellers have unlimited access to more than 120 live performances, including the "Jamming in International Waters" all-star jam, meet & greets with every band, intimate musician workshops and exclusive premieres. And all this without any VIP areas on board, so it feels like everyone has a backstage pass! And if that wasn't enough, guests even have the chance to explore a Caribbean dream destination with their favourite musicians.
More information about 70000TONS OF METAL 2023, including photos, FAQs (on booking, travel documents, payment, etc.), ship's equipment, event details and more, is available at 70000tons.com .
Sailors, survivors and fans are also invited to join the 70000TONS OF METAL community in the official 70000TONS OF METAL forum, at Facebook, Twitter, Instagram, TikTok, YouTube, Telegram and Spotify connect: @70000tons.
Press release: CMM GmbH