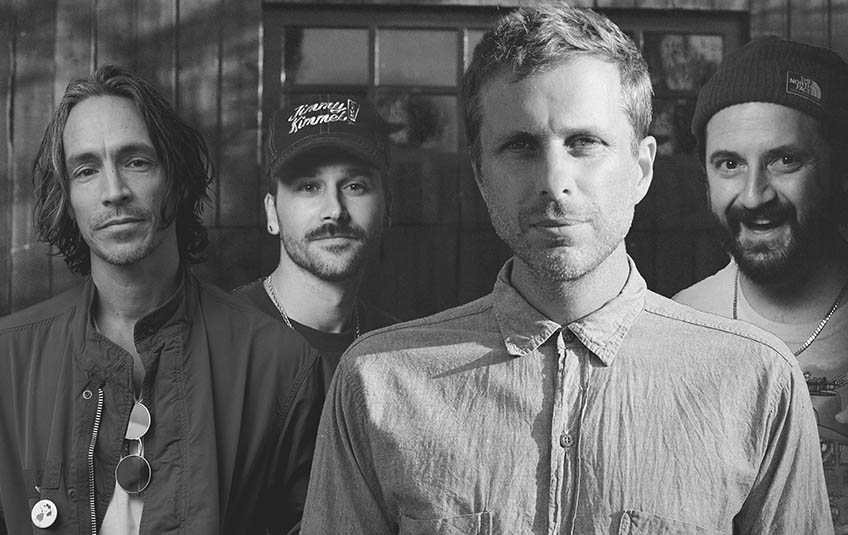 Awolnation release cover version of "Wind Of Change" in collaboration with Portugal. The Man and Brandon Boyd from Incubus
AWOLNATION today releases their epic reinterpretation of the 1990 Scorpions classic "Wind of Change" featuring two very special artists: Grammy-winning Portugal. The Man and Brandon Boyd, frontman of the multiplatinum band Incubus. It is the first official single from the upcoming album "My Echo, My Shadow, My Covers and Me", which will be released on May 06, 2022 via Better Noise Music. The collaborative project is a collection of masterfully crafted and carefully curated cover versions born out of the personal connection between AWOLNATION mastermind Aaron Bruno and the respective artists. The full track listing will be announced in the coming weeks. The official music video for the single was directed by Amalia Irons and impressively embodies in nostalgic imagery the effects of transience on each and every one of us.
The song and video also mark the beginning of the project's overarching mission: to illustrate the positive effects of music and cohesion within the artist community on mental health. Aaron Bruno will explore this theme in a series of in-depth conversations with his fellow artists, which will be gradually released as part of the upcoming album campaign.
At the beginning of January Bruno had already announced the cover project and more music for this year: "Happy new year Nation ! I've always wanted to do a covers record full of fun and surprises, so I did just that, and it's finally coming out ... first single this month. I reached out to different artists and friends to sing on it, and most agreed to join haha ! Can anyone guess who's on it ? Or which songs I chose ??? Oh, and a new original album to follow. Thank you for your patience and love. Let's lift each other up !!!""
Commenting on today's release, Bruno said in a statement (following statements meaningfully translated), "I've known Brandon for a while and he's always been good to me in the years I've been in this business. The guys in Portugal. The Man feel like brothers from a hardcore band that we would play in another life. It's such a powerful song that I thought I'd just give it a try. ALSO, did the CIA really write it???""
The last part refers, tongue in cheek, to the 2020 Spotify podcast Wind of Change, which states, "Journalist Patrick Radden Keefe has heard a rumor: the song ["Wind of Change"] was not written by the Scorpions. It was written by the CIA. This is his journey to find out the truth."
John Gourley, frontman of Portugal. The Man about the collaboration, "This song marks a very important point in my childhood. My father pulled me in front of the TV in 1989 to watch the fall of the Berlin Wall. It was the first time I really became aware of the world around me. We wrote a song about that experience called "1989." Like many others, "Wind Of Change" remains connected to that memory for me."
Brandon Boyd adds, "This song has been haunting my head since I first heard it as a kid in the 1990s. It never occurred to me that it would be a great song to cover until Aaron suggested it for his project. The deal was made doubly sweet when he told me that John from Portugal. The Man would be joining in as well. I'm thrilled to be involved!"
Bruno celebrated the 10th anniversary of his platinum debut album Megalithic Symphony last year, which also included the Diamond hit single "Sail". AWOLNATION is also currently working on a new studio album, which will be the follow-up to 2020's ANGEL MINERS & THE LIGHTNING RIDERS . The album, which featured the single "The Best" and collaborations with Rivers Cuomo of Weezer and Alex Ebert of Edward Sharpe & the Magnetic Zeros, was the band's first album after signing with Better Noise Music and was praised by both critics and fans upon its release.
Press release: Head Of Pr
Photocredit: Kari Rowe for Aaron Bruno, Maclay Heriot for Portugal. The Man, Brian Bowen Smith for Brandon Boyd