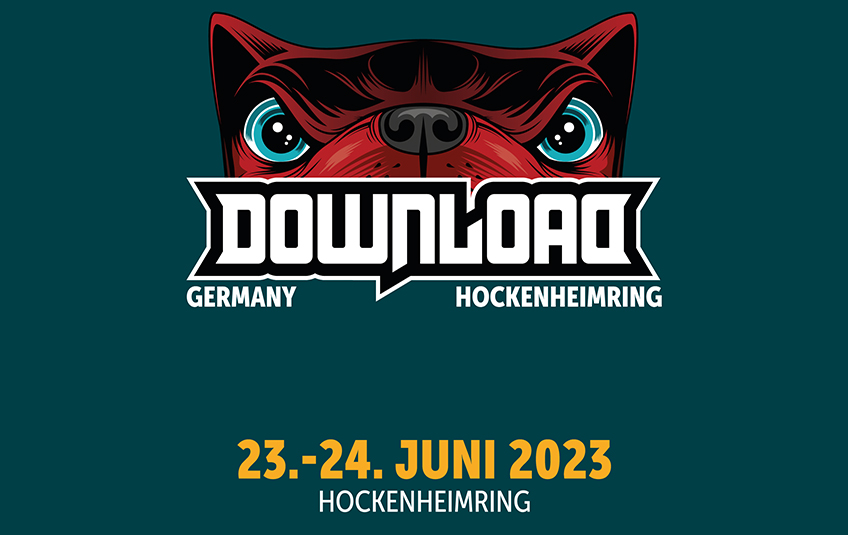 Tear down at the Hockenheimring: The Download Festival goes into the second round + June 23 - 24, 2023
Hi and welcome to Lila's news!
It is a place where like-minded people come together to celebrate an attitude towards life that is transported through music. A place where thousands of fans meet bands that have already made world history several times.
We are talking about the Download Festival, which returns to the Hockenheimring again this year.
Originally created in the age of the great Internet revolution, Download is a festival with tradition. It has become an essential part of the metal and rock scene, joining such well-known festivals as Reading/ Leeds, Warped Tour and Rock am Ring. From bands like Metallica, Audioslave, Iron Maiden, Billy Idol, Black Sabbath or Bring Me The Horizon, almost every famous act has been on its stages, which is why it drives thousands there year after year. Download Festival has them all and let them perform not only in England.
Already at home in Ireland, Scotland or even Australia, the festival now drove for the first time in 2022 also in Germany. For one day there was the full blast in the form of Metallica, Enter Shikari, Behemoth, Sabaton as well as Five Finger Death Punch, who delivered one blow after another. The first edition of the day festival went so well that another edition was inevitable. So not only a second round was planned, but also another day was included.
From 23-24 June it is then so far and the Download Festival goes into the next round. With it a line-up, far from good and evil, which we want to introduce to you today.
First day
They come with scary masks, with aggressive rhythms and a dynamic that the stage can not withstand: With Slipknot Download Festival has not chosen a better band to celebrate the second edition in Germany. Known for songs like "Duality", "Wait and Bleed" or "Unsainted", the nu metal band has made a name for itself over the years, always associated with an energetic, intense performance. An experience, that much can be promised.
Also announced for the first day are Parkway Drive, who complete the unforgettable experience: As pioneers of deathcore, Parkway Drive are one of the metal bands that shape the genre with their sound as well as their performance. With their inexhaustible creativity and perseverance, there is no denying that Parkway Drive are made for the job as co-headliners.
The other bands are also in no way inferior to the two headliners: Disturbed, Within Temptation, I Prevail, Lorna Shore, Malevolence, Stand Atlantic and Wargasm have also announced for the first day and will leave no box on the other.
We can only recommend Wargasm in particular, who are also one of our insider tips for the first day. Wargasm stands for a chaotic, adrenaline-driven metal sound, in which they mix the most diverse genres from pop, punk to rock. This sound they also share in their performance, which is why we can only recommend you not to miss it.
Second day
The second day and it remains the same: it will be a demolition. The band Volbeat has announced itself as headliner.
There's just something about Volbeat that excites fans worldwide and makes them popular even beyond genre conventions. Classics like "Lola Montez" or "Still Counting" will definitely not be missing here and maybe one or the other cover will be played. The fact is, and we were already able to experience this at the Rock am Ring festival in 2022 , that Volbeat are one of the bands that are particularly close to the audience and are not afraid to turn up the volume.
Even if it doesn't seem so at first glance, The Prodigy and Volbeat is a really good combination that complements each other musically. The punk-electro combo is not very close to the main genre of the festival, but still belongs to the scene and will heat up the visitors properly. Songs like "Firestarter" or "Omen" will not be missing here either, so fans of the band will get their money's worth.
With Amon Amarth, Kreator and Clutch the metal faction will be further strengthened. Bands like Coheed & Cambria, Bob Vylan as well as The Amity Affliction will also ensure a successful second day. One of our absolute highlights is Nothing More, who could have played as a third co-headliner. The band with their unusual interpretation of Alternative Metal released their latest album "Spirits" last year, with which they have once again released a groundbreaking new sound work. Now they finally bring this to Germany and will, as we have already experienced them ourselves, celebrate this properly.
Dead Poet Society is also one of our insider tips and should definitely be seen by you! With their distinctive mix of rock, light blues and pop, the band stands for an energetic alternative rock sound that can't be missing at such a festival and rounds off the entire line-up.
The Download Festival starts at the Hockenheimring in the second round and with such a line-up certainly not the last time. From June 23-24, you can expect an experience that will only happen once, which is why we recommend that you definitely secure a ticket.
Get your ticket: Download Festival.
Save the date!
Photocredit: Live Nation
Lila is out, be the beat with you!