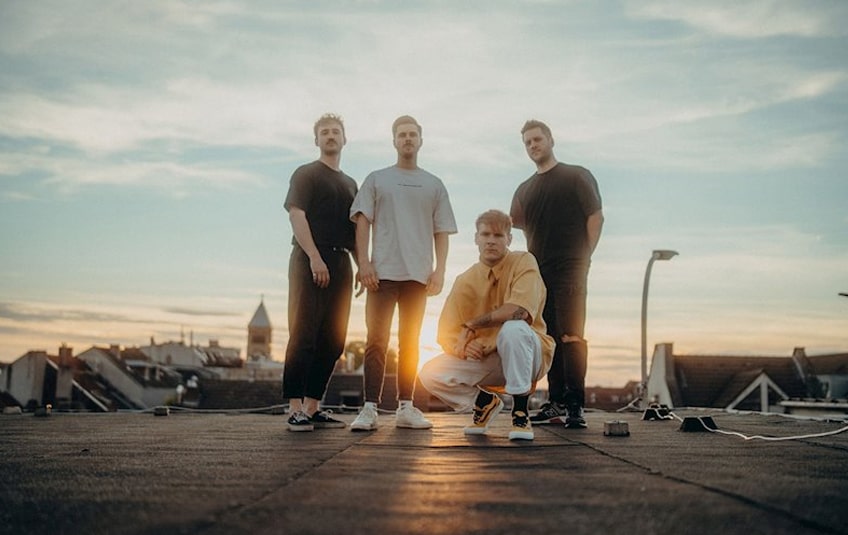 Flash Forward announce a new era of their creativity with "Endings = Beginnings" + Highlights
Hi and welcome to Lila's review!
Since we saw them in Cologne last time as support band of Palaye Royale , a lot has happened with Flash Forward . The band has worked its way up from an insider tip to a well-known name in German alternative rock, who more than deserved to perform at this year's Hurricane/ Southside Festival as well as Highfield. Flash Forward finally arrived and takes the opportunity between all the touring to present their latest album, "Endings = Beginnings", which will be released on Friday.
Since 2010 Flash Forward stands for a fresh alternative sound with modern influences. Rock is mixed here with pop and punk and writes down the story of a young band that started very small in the Ruhr area. Over time, five soundtracks have been created, the latest two were released via Uncle M , who have clearly recovered a jewel in German alternative rock with Flash Forward . Their latest album "Endings = Beginnings" " will also be released with 13 unique songs via the indie label on December 09.
The name couldn't have been more appropriate here, as Flash Forward take the opportunity to reinterpret their own sound. Light punk meets dynamic as well as catchy melodies from pop, which actively support it. "Endings= Beginnings" is not a classic Flash Forward album that fans are used to, and yet the band has remained true to itself with this work and continues to rely on strong, melancholic melodies and soaring choruses that face the challenges of life.
For the release of their new album, the support of Between You & Me, We Were Sharks, Breathe Altantis and As December Fallhas fetched: Versatile and tireless has succeeded with "Young Blood" the ideal entry into the album, which Between You & Me duly accompany. "Drowning Underwater" dives into a spherical sound into the deepest of one's self, at the bottom of which We Were Sharks and Breathe Atlantis are already waiting. "Over You" is a hymn-like duet between singer Stefan and singer Bethany from As December Falls, which promises pure goosebumps. Stefan tells about this (translated analogously):
"We were insanely happy to collaborate with Bethany from As December Falls because we're big fans of her music and she also has a very unique and particularly energetic voice that fits perfectly into the song." Further, he feels that "it just fit right away and it kind of gave the song a whole different fresh feel."
If you can't get enough of the new album already, you shouldn't hesitate any longer and secure a ticket for the upcoming tour next year, which will lead through selected cities in Germany: Tickets.
"Endings = Beginnings" is a very honest and authentic album that gives support especially in times of uncertainty. The band opens a new chapter in their band history and marks the beginning of a new era. Flash Forward is unstoppable.
No Christmas present? Then order the vinyl bundle to the album here (absolute recommendation!): Order at Uncle M.
Lila is out, be the beat with you!