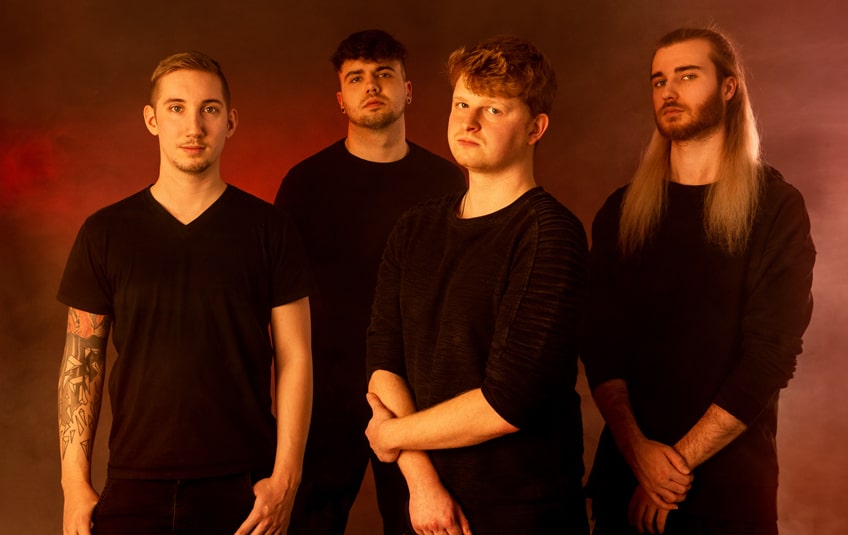 Hostage conquer metalcore with new album "Memento Mori
Hi and welcome to Lila's review!
With just one viral hit ( the cover to the Chainsmoker song "Don't Let Me Down") Hostage have already conquered the metal playlists on Amazon and Spotify by storm: Hostage are taking over German metalcore and with the release of their debut album "Memento Mori" they provide a few reasons to follow them.
The story of Hostage begins in Aachen in 2018. Consisting of Noah Müller (vocals), David Fuß and Nico Ruddies (guitar), Timo Bartsch (bass guitar) and Marvin "Mürv" Ruddies (drums), the band came together to create something bigger than themselves. Hostage is a home for all those who are not accepted and cannot be themselves. It is a place where like-minded people can come together under the sign of their music without being discriminated against for their individuality. This is combined with a modern metal sound that disregards genre conventions and reflects the originality of the people by unfolding in all possible directions. What does that sound like? You can hear it on their new album "Memento Mori".
From death metal, metalcore to deathcore and rap, the band covers everything in their new album, so surprises are not uncommon here. You can expect a very harmonious album, which plays with the constant change between melodic passages and an unbridled rage, bundled in fast rhythms. Hostage combines here the right mixture of energetic breakdowns and modern, fresh elements, without depriving their actual sound of its distinguishing feature. Connecting so many different musical styles and finding the right balance is an art we give them credit for.
"Memento Mori" means "Be aware of mortality". In their new album, the band takes up exactly this theme, mortality and finiteness: "We wanted to express that everything has an end at some point. Nothing stays forever, neither the good nor the bad." the band states. That makes it all the more important to use the time and also to reflect on the past. To live in the moment and at the same time to be aware of what this moment means, "Memento Mori" is thought-provoking here.
Not only the fact that the band released a flawless debut album, but also that the guest acts are out of this world makes this one too good to be true. On "M.U.T.O." you get to hear Marius Wedler from Alleviate and on "Game Over" Christoph Wieczorek from Annisokay . The track "Rebellion", meanwhile, has attracted a star line-up that we haven't heard in this form before. Henning Wehland and Dave Gappa from H-Blocks lend their voices to "Rebellion" and support the band in their album. With this, the two musicians return a little to their rock roots, which will not leave fans of Hostage as well as H-Blocks unimpressed. About the collab, the band tells:
"Hey, screw the scene idea. Our parents gave us this music in our cradle, we're total fans, and getting both of them in front of the mic was insane."
The 15 songs that Hostage have released with "Memento Mori" give a first insight into what the band will be able to do in the future and which stages they want to play on. Our magazine agrees that this is a sound the scene can't miss and we really hope to hear/see them live soon. Absolute recommendation from us!
Photocredit: Camilla Jungblut
Lila is out, be the beat with you!