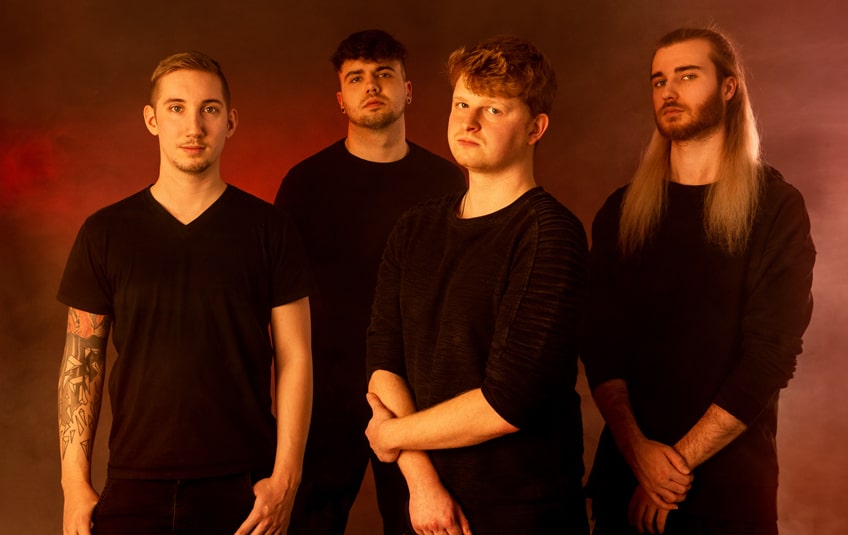 Hostage and Ifa surprise with a cover of the song "Enemy" by Imagine Dragons + title track of the series "Arcane
Hi and welcome to Lila's news!
"Everbody wants to be my enemy..."
"Enemyis one of the best-known songs by Imagine Dragons, which was released especially for the series Arcane. The adaptation of the League Of Legends game in the Netflix series is one of the most successful series of the streaming giant and even ousted successes like "Squid Game" from the throne of the bestseller list.
The popularity and passion for the game are not lost on Hostage , who dare to take on the incredible task of covering the song "Enemy". After the successful release of their Debut album "Memento Mori", which is by far one of the most professional and strongest debut albums we've ever heard, the band follows it up by releasing the single in the stream on Twitch at 19:30 today with a matching music video. Not only that they venture to this song, but also the fact that they do it together with Twitch streamer Ifa (Ifas_Core) speaks for tuning in tonight. About the creation Noah tells:
"Since we had the pleasure of meeting the streamer Ifa (Ifas_Core) shortly beforehand and knew from her vocal streams that she is an incredibly gifted singer, it was immediately clear to us how we could make this cover something very special," Noah recalls. "So without further ado, we asked her if she would like to perform "Enemy" with me as a duet and record it in the studio. Luckily for us, she was super into the idea, so we ended up recording the song with our favorite producer Timo Bonner at Megablaster Recordings. We really enjoyed the perfect chemistry between the six of us, which led to Ifa joining us again for the music video shoot five months later."
Ifa adds: "When the guys played me their version of the song, it was immediately clear to me that I wanted to be part of it. Working with HOSTAGE and their producer Timo was a real highlight. In terms of creativity and execution, the guys are on a very high level."
The result of this cooperation is an incredibly creative, emotional cover, in which Hostage try themselves out once again, without losing sight of their distinctive sound. With "Enemy" you will experience a focused metalcore sound with modern influences, which will literally captivate you and won't let you go. Especially the harmony between Noah and Ifa is on a whole new level.
This isn't the first time Hostage has done a cover of a famous song. Most recently they went viral with their cover of the Chainsmoker song "Don't Let Me Down", which they revived in their own version. Their new song will be in no way inferior to this, that much can be revealed in advance, and will be available on all streaming platforms from December 9. On that day, on which also a live premiere on the Essen "Curtain Call" takes place.
Photocredit: Camilla Jungblut
Lila is out, be the beat with you!