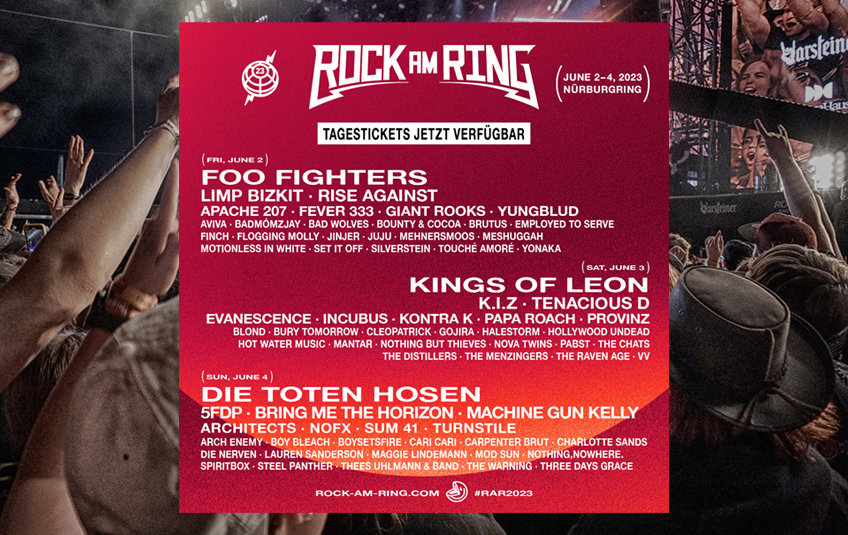 Call It A Comeback: Rock am Ring and Rock im Park festival documentation to be released on April 06
While spring is still taking its time, you can already get into the summer festival mood: Rock am Ring and Rock im Park announce for this Thursday, April 06, 2023, the 42-minute festival documentary "Call It A Comeback" with highlights from 2022. In addition to numerous fans and visitors, the Donots, Marteria, Sportfreunde Stiller and Campino from the Toten Hosen, among others, will have their say in "Call It A Comeback". At the same time, advance sales for Rock am Ring and Rock im Park 2023 are entering the next phase: day tickets for both festivals are now available.
In a few weeks, the 2023 festival season will start with this year's edition of the twin festivals Rock am Ring and Rock im Park. Time to remember last year once again and get in the mood. On Thursday, April 06 at 7:15 p.m., Rock am Ring and Rock im Park will release the 42-minute festival documentary "Call It A Comeback" at www.rock-am-ring.com and www.rock-im-park.com.
"Call It A Comeback" has become a special documentary about an extraordinary festival year. 2022 was the year when the shadows of the corona pandemic gave way and concert life returned. After a three-year drought, fans were finally able to make a pilgrimage back to the country's biggest festivals. From the perspective of individual fans, festival staff and musicians, the film conveys the goosebumps, the euphoria, the joy of regained festival freedom. The Donots and Sportfreunde Stiller allow access to their backstage rooms and convey to the viewers how this special moment felt to them.
The personal memories and impressions of numerous participants are complemented by furious live performances from the 2022 line-up - from newcomers like Kafvka to headliners like Green Day or the Beatsteaks.
The surprise appearance of the Toten Hosen turns out to be spectacular: no one could have expected this, and yet it was hoped that it would be the Hosen who would finally unlock the doors to their "living room" again. "Rock am Ring is probably the best festival in Germany," said Campino after his band's previously unannounced appearance, so it's no surprise that Die Toten Hosen were also confirmed as the first headliners for Rocks 2023.
For all visitors* who can only visit Rock am Ring and Rock im Park 2023 on a single day, there are now again the coveted day tickets available in addition to the Weekend Festival tickets. These are available in advance from 99 euros.
For this year's edition of the twin festivals, Die Toten Hosen, Kings Of Leon, Limp Bizkit, Rise Against, Bring Me The Horizon, K.I.Z, Evanescence and many more have been announced.
As a special highlight, the Foo Fighters will play exclusively at Rock am Ring and Rock im Park in 2023. The band around Dave Grohl will perform at the Rocks for the first time in five years this summer. The performances are the only Foo Fighters headline shows in Europe this year.
The full confirmation list in alphabetical order can be find here:
Architects
AViVA
Badmómzjay
Bad Wolves
Blonde
Bounty & Cocoa
Boy Bleach
Boysetsfire
Bring Me The Horizon
Brutus
Bury Tomorrow
Cari Cari
Carpenter brood
Charlotte Sands
cleopatrick
The nerves
Die Toten Hosen
Employed To Serve
Evanescence
Fever 333
Finch
Five Finger Death Punch
Flogging Molly
Foo Fighters
Giant Rooks
Gojira
Halestorm
Hollywood Undead
Hot Water Music
Incubus
Jinjer
Juju
K.I.Z
Kings Of Leon
Contra K
Lauren Sanderson
Limp Bizkit
Machine Gun Kelly
Maggie Lindemann
Mantar
Mehnersmoos
Meshuggah
Mod Sun
Motionless In White
NOFX
Nothing But Thieves
nothing,nowhere.
Nova Twins
Pabst
Papa Roach
Province
Rise Against
Set It Off
Silverstein
Spiritbox
Steel Panther
Sum 41
Tenacious D
The Chats
The Distillers
Thees Uhlmann & Band
The Menzingers
The Raven Age
The Warning
Three Days Grace
Touché Amoré
Gymnastics styles
VV
Yonaka
Yungblud
Rock am Ring and Rock im Park will take place from 02.06. to 04.06.2023 at Nürburgring/Eifel and Zeppelinfeld/Nuremberg, respectively.
Tickets and further information at www.rock-am-ring.com and www.rock-im-park.com.
Press release: Rock am Ring
Photocredit: Rock am Ring