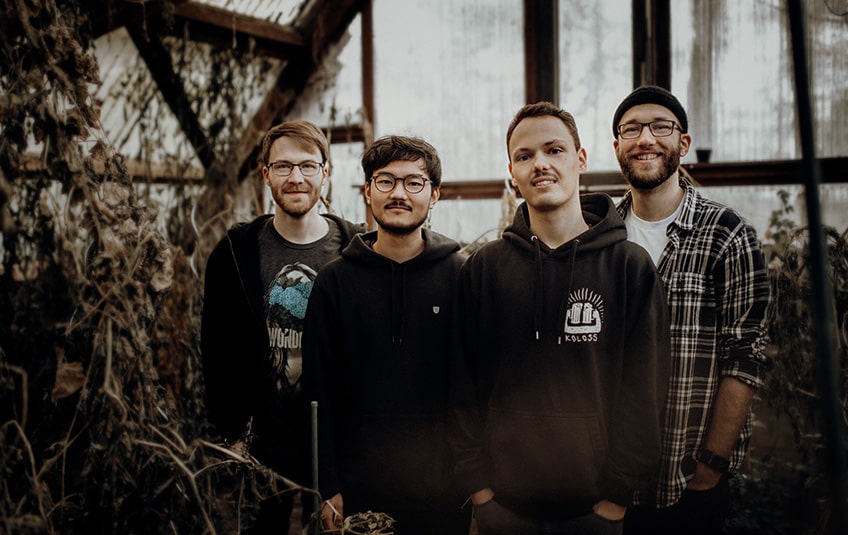 Shoreline present brand new album "Eat My Soul
Hi and welcome to Lila's review!
For the start of the coming weekend we want to give you a disc that we have already been listening to for a few days. A record that stands out not only because of its sound but also because of its lyrics and makes you really happy. My Immortals, look forward to "Eat My Soul" from Shoreline!
They have already played several concerts in different parts of Europe, always with a modern punk sound that makes you want more. The four guys from the punk stronghold Münster, have formed about four years ago and play according to their own statements, how could it be otherwise, punk rock, but with various influences from the emo and independent area. The band stands for a natural and unconventional sound that convinces all along the line. Following the motto "Do It Yourself" , the guys do most of the work themselves, from the artwork to the booking of their shows. Shoreline shows itself as a versatile and experimental band, which is reflected positively on their new album.
With "Eat My Soul" Shoreline have created an eleven - song strong disc that brings a lot of emotions. From the refreshing opener "Andre The Giant" to the powerful "Sleepy Habits" always resonates a nostalgic mood that makes you think. In their lyrics, the "tireless duration - Tourer" deal with interpersonal conflicts, with which many of you can certainly identify. Many of the tracks on the new disc were written down by the guys while they were still on tour between gigs "Eat My Soul" is a disc with a strong character, which is characterized by individuality and naturalness. Absolute buy recommendation!
Our highlight on the disc is the seventh song "Vanish"Already at the beginning, you find yourself between faded memories and your own turmoil from days gone by. The interplay between loud and powerful sounds creates an intense atmosphere that gives you goosebumps.
"Eat My Soul" is a multi-faceted record that we love to listen to. The guys have created together with Uncle M, an independent record label from Münster, an album with addictive factor, which we can only warmly recommend to you!
ATTENTION - Shoreline starts in two days their release tour through Germany, Belgium but also Czech Republic.
Lila is out, be the beat with you!