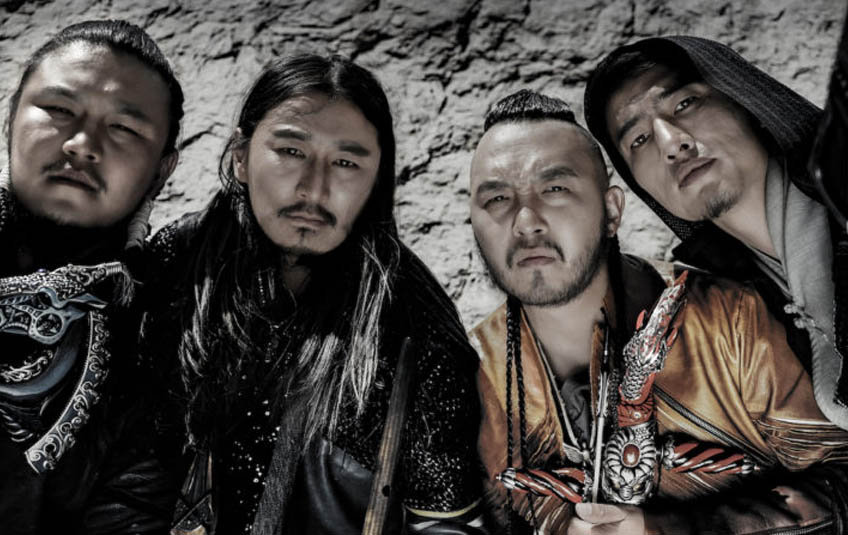 The Hu unveil brand new album "The Gereg"
Hi and welcome to Lila's review!
Always on the search for a new, distinctive sound, we came across a band from a far-away country. Between the great powers Russia and China lies Mongolia, the most sparsely populated country in the world, from whose capital our present five heroes hail. Look forward to The Hu and their new album "The Gereg".
The Hu, translated as "man", stands for a cosmopolitan, tradition-conscious sound that combines old influences with new ones. Founded three years ago in the State Conservatory in Ulaanbaatarthe guys devoted themselves to rock music and mixed it with their cultural background. The "Hunnu Rock" was born. Unusually and originally, they use a Jew's harp, a lute and a horse-head fiddle for their sound and manage to create a sound that goes through marrow and bone, despite what we understand to be a curious composition. On stage they are accompanied by four musicians who add a pinch of rock to their sound. Especially the throat singing of vocalist Gala, which, according to him, requires years of practice. All these components result in a secret recipe, which The Hu clearly masters. With their sound, the guys tear down walls and build bridges where otherwise there are none. They emphasize that they "don't exclude anyone. Everyone is invited to be part of [their] journey."
Also on their debut "The Gereg" they cultivate this attitude. From the first second on, they take you on a spiritual journey through the past of their ancestors and let modernity meet tradition. Diverse and natural they present a sound that has its very own charm and does not have to hide. Written in their native language, the band tells of Mongolian battle cries, poetry or even ancient inscriptions from their homeland. The whole thing was recorded and produced by their producer Dashka in the Nature Sound Studio in Ulaanbaatar, who always accompanies them. This unique sound can now be enjoyed to the fullest next Friday and we recommend you to listen to this exciting debut for yourself. We are definitely convinced. Furthermore, Temka (Lute) tells the following about the new album (meaningfully translated):
"The Gereg" stands for the first passport introduced by Genghis Khan during the Mongol Empire. We try to combine the unique sound of Mongolian music with that of rock in a spiritual way, reaching people's souls."
The Hu is a very remarkable band that we will continue to follow in the future. Only in April they were appointed Mongolian ambassadors by the foreign minister of their country, congratulating them on their worldwide success. They have also been on the stages of Rock am Ring and Rock in the park and played a completely sold out European tour of 23 concerts in the spring. Amazing. They will now play more concerts in the USA starting in October. We liked "The Gereg" very much and hope to welcome the guys here in Germany soon!
If you are not yet convinced, then take a look at "Wolf Totem" :
Photocredit: The Hu
Lila is out, be the beat with you!