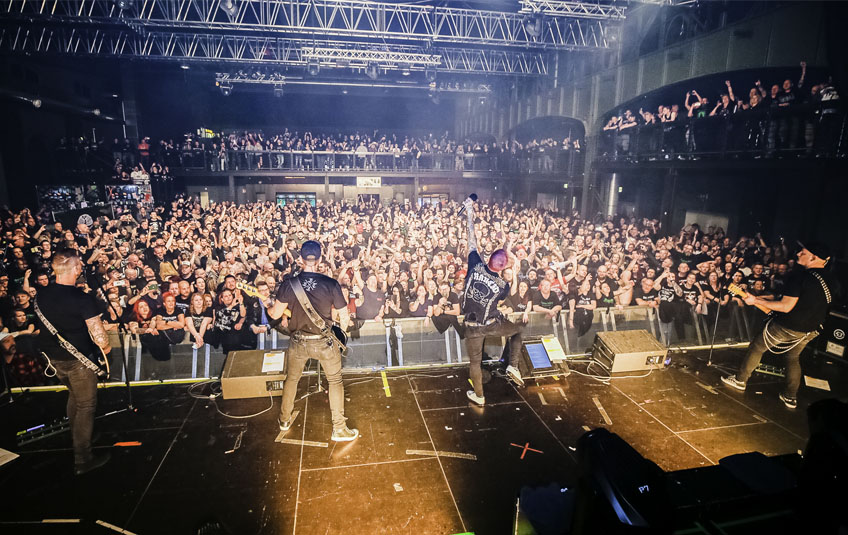 UNANTASTBAR: Start of WIR LEBEN LAUT tour + video single "Küss mich" released
Finally the time has come: Everything is prepared, rehearsed, packed, instruments are tuned and voices oiled. Starting this week, the UNANTASTBAR truck will once again roll through a total of 20 cities in Germany and Austria. On the way they will also stop at 6 German festivals - including the very first edition of the band's own WIR LEBEN LAUT festival, a very special highlight in the middle of the year. But first it starts on 23.03. in Dresden. The band is really looking forward to finally being able to celebrate the new songs live with the fans, who are already sure to get every line right and the anticipation of the image is growing with every passing day. And UNANTASTBAR can only agree with that and promise to give everything as always: "Soon the madness will finally start! We are more than excited to finally get back into the nightliner and go on tour with UNANTASTBAR. The new album 'WIR LEBEN LAUT' wants to be shouted out into the world! You can listen to music at home, but the atmosphere and the whole shebang at our concerts is simply unique and indescribable - we promise! We are looking forward to the most awesome Unantastbar tour ever!"
Ranked 2nd in the German album charts for their 9th studio work "WIR LEBEN LAUT" released at the end of December 2022 - the first collaboration with Napalm Records' rock subsidiary Spinning Goblin Productions -, a great crew and their loyal fan community behind them, the five thoroughbred rockers from South Tyrol really don't have to prove anything to anyone anymore. And yet they always go one better:
The first tour dates are sold out by now, for others this is imminent. Those who are still thinking about it should not wait any longer - why should they? 2023 promises to be another more than special chapter in the history of UNANTASTBAR. The WIR LEBEN LAUT journey really starts now!
Just in time for the start of the tour, the band surprises its fans with another treat: the video for the song "Küss mich" (Kiss me), a very special track that has kept people guessing since the album release - after all, contrary to what the title suggests, it's not necessarily a love song. Or is it? It also becomes clear in the video: Sometimes nothing is as it seems. Just like the lyrics, the video also leaves a lot of room for interpretation and raises the topic to another abstract level, which is really more than worth seeing:
Maybe answers can be found on the tour ... So it's worth going in any case 😉 ...
Grab your ticket here:
Hard tickets: www.unantastbar-tickets.com
Tickets EN: www.eventim.de/unantastbar
Tickets AT: www.oeticket.com/unantastbar
WIR LEBEN LAUT Tour 2023 / Support: Willkuer
+ UNANTASTABLE Festivals 2023
23.03.2023 - Dresden, Reithalle Street E
24.03.2023 - Frankfurt, Batschkapp
25.03.2023 - Cologne, Essigfabrik SOLD OUT
30.03.2023 - Pirmasens, Quasimodo
31.03.2023 - Erfurt, Club Central
01.04.2023 - Stuttgart, LKA-Longhorn SOLD OUT
27.04.2023 - Cottbus, Gladhouse
28.04.2023 - Weiden, Monkey Eventarena SOLD OUT
29.04.2023 - Nuremberg, Löwensaal SOLD OUT
30.04.2023 - Vienna, Scene
19.05.2023 - Hanover, Capitol
20.05.2023 - RuhrRockRausch Festival, Oberhausen
26.05. & 27.05.2023 - WIR LEBEN LAUT festival, Loburg
14.07.2023 - Summer at the Kiez Festival, Augsburg
28.07.2023 - Rock Dein Leben Festival, Laichingen
08.09.2023 - Rock am Burghaldenwald Festival, Vöhringen
09.09.2023 - Telfs (A), Town Hall Hall
19.10.2023 - Leipzig, Hellraiser
20.10.2023 - Berlin, Huxleys Neue Welt
21.10.2023 - 5 years full throttle direction rock festival, Lichtenfels, Stadthalle
02.11.2023 - Ravensburg, Concert Hall
03.11.2023 - St. Wendel, Liebenburghalle
04.11.2023 - Herford, X
16.11.2023 - Kiel, Max Night Theater
17.11.2023 - Bremen, Aladin
18.11.2023 - Alsfeld, Hessenhalle
Press release: CMM GmbH