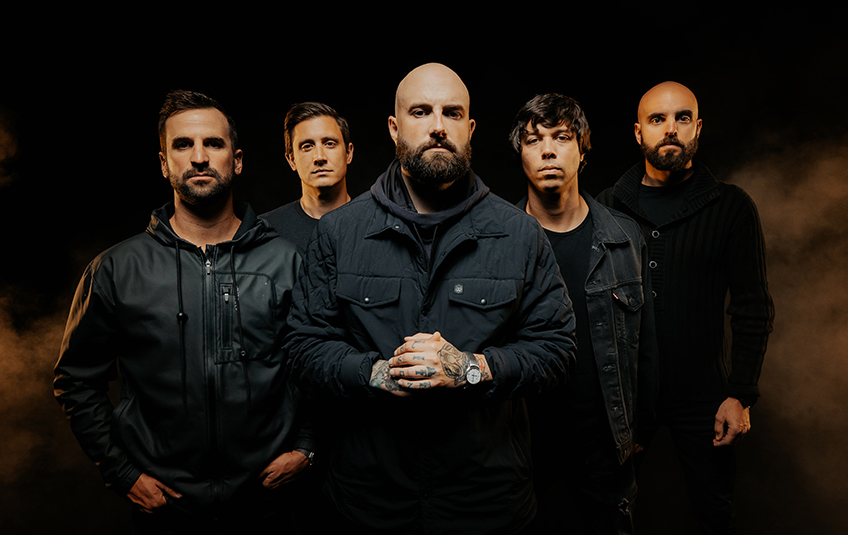 20 years of August Burns Red: The band celebrates its success story with the release of its new album "Death Below
Hi and welcome to Lila's review!
20 years metalcore, 20 years August Burns Red.
There is hardly a band that has had such a strong influence on a genre that today is one of the most listened styles of metal. With their interpretation of metal and the subsequent emergence of metalcore, August Burns Red paved the way for many bands to come and consequently can look back on an amazing career: a Grammy nomination in the category "Best Metal Performance", appearances at the biggest festivals in the metal scene as well as an international fanbase that today counts about 863,000 monthly listeners on Spotify alone. The five-piece band from Lancaster, Pennsylvania has made it and is celebrating all those years of passion with their new album "Death Below", out Friday.
An achievement we would like to honor as our "Album Of The Month".
Especially the introduction in "Death Below" provides the first goosebumps moment of the record: With "Premonition" the band pulls you into their sound world, which is characterized by spherical, focused melodies and an angry vocal, which announces the sound of August Burns Red . Announced in mind that in the following song "The Cleansing" it becomes directly rough, uneven and dynamic. The band has created a successful introduction here, which slowly leads the listener to the following musical sound universe.
In their album, August Burns Red combines metalcore as well as deathcore with influences from speed metal and progressive. Energetic, demanding guitar riffs follow catchy melodies that literally exchange blows, such as in the song "Ancestry", on which the band invited singer Jesse Leach from Killswitch Engage . Singer JB tells about it
"'Ancestry' is a complex and technical ABR song held together by perhaps the most painful and personal lyrics Jake has ever written. I loved this song at every stage since it was written. From the instrumental to the lyrics and vocals to Jesse's anthemic guest vocals, 'Ancestry' is a song we've been looking forward to sharing with the world."
In "Death Below" he band talks about their darkest hours of the last years. The moments that haunt you when you feel most vulnerable and emotions build up. The band has used this emotional chaos to create a new album with which fans can identify. The result is not only a musically coherent work, but also a voice for the hopeless in painful hours. Further, JB tells:
"It's no secret that the last few years have been extremely dark and challenging. Death Below is the result of that time in our lives and the emotions that came with it. Uncertainty, fear, outrage and triumph have motivated us. I feel like this is the darkest and most personal album we've ever written, and I couldn't be more proud of what the five of us have created together."
August Burns Red has once again shown with their album why they are one of the pioneers in metalcore, and with this work they continue the success of the previous ones. "Death Below" ot only has an incredible array of musicians, such as Jason Richardson, JT Cavey as well as Spencer Chamberlain, it is also one of their most focused as well as strongest albums. Listening to it, it partly took us back to the concert at Live Music Hall where we saw them last year. An experience we will definitely repeat when the band goes on tour with their latest work!
Therefore, we can only recommend you to listen to the band's new album on March 24 and not to miss it. Our "Album Of The Month"!
Lila is out, be the beat with you!