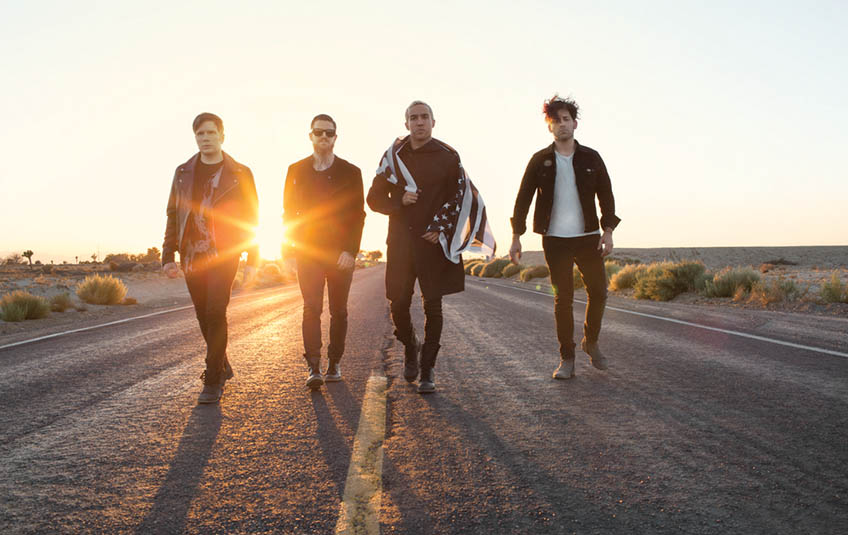 Fall Out Boy Album "American Beauty, American Psycho"
", Hey-ya, hey, hey-ya ", - and welcome to Lila's review!
America. The land of unlimited possibilities and exactly from this country come the four boys of "Fall Out Boy" whose latest album we will present to you today. The title of the album "American beauty, American Psycho" is a homage to the Greatful Dead album "American beauty" and the novel "American psycho".
The album was released on 16 January 2015 and is packed with eleven cool tracks. Our editors liked the songs so much that we sing them aloud. The album's opening track, "Irresistible", was a major contributor to this. Lyrically and musically, the songs are simply brilliant, as you would expect from FOB .
However, the band wants to offer their fans much more than profound pieces of music and so pieces like "Centuries" are meant to be a deliberate push for inspiration. This "message" is not only received positively by our studio, but also by our colleagues. Evan Lucy from the ATP, for example, wrote that Fall-out Boy are currently producing the most interesting music in their career.
To give you a small impression of the songs, we present a song that we can't get out of our heads and is therefore played over and over again. The title of the song has the same name as you, my "Immortals".
"Immortals" begins with a catchy electro melody that runs through the whole song. Just a few seconds later, the unmistakable voice of singer Patrick kicks in. Where the band only played along quietly in the chorus, they really belt it out in the chorus. Everything in the track is just right, be it the instrumentation or the lyrics, it just fits like a glove. The part where Patrick "screams" "Immooooor... Immortals" into the world is the one that burns itself into our heads the most. When we recently sat together in front of the TV and watched a film appropriate for our age, "Baymax", we were amazed when we heard the first notes of the song during the credits. We took this as an opportunity to put the film on our Top 10 list.
The album cover shows a rather grim looking boy. On the right side of his face is the American flag, but not in the dazzling national colours, but in black. He is wearing a blue top with black stripes. In the blurred background, a house can be seen with what we think is a well-kept lawn. If this does not leave room for speculation ;)
With "American beauty, American psycho", FOB placed at the top of various charts such as Billboard or the UK Album Download. The album went gold in Canada and England and platinum in America.
We can definitely tell you that this album puts you in a good mood and is just perfect for these grey days!
Photocredit: Pamela Littky
Lila is out, be the beat with you!