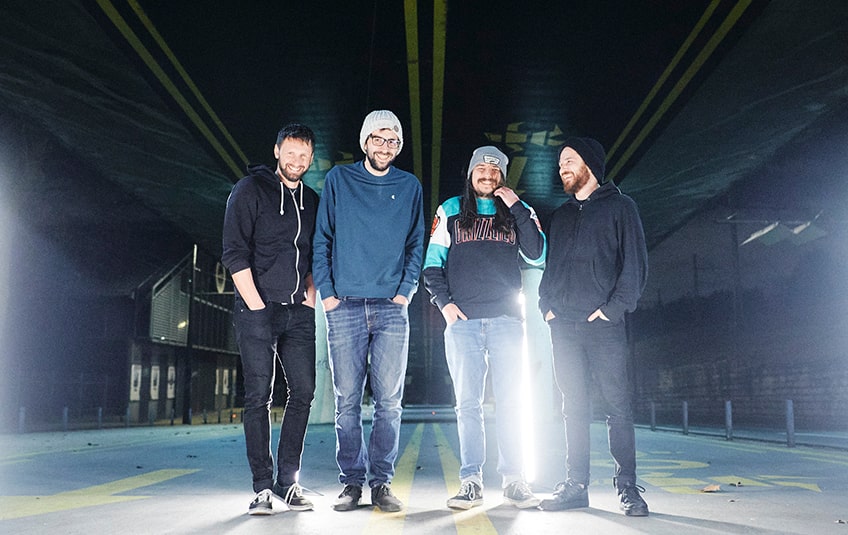 Quitters present new album "Captain Are We Thinking?" this Friday
Hi and welcome to Lila's review!
It was barely three weeks ago when Quitters their latest single "Broken World" have been released. Now the band is taking the final blow and releasing their long-awaited album "Captain Are We Thinking?".
Quitters have already been reviewed by us several times, but for those of you who are new, here is a short introduction to the band: Founded in the beautiful city of Montpellier, the band from France is somewhere between punk and alternative, where they establish their own sound. The guys, who have already toured a lot in the past, talk about life in their songs and feed their collected experiences and emotions into them. An interim version of this can now be heard at the start of the weekend, which you won't be able to put aside in a hurry.
With their latest work, the band releases an album that questions our world and turns it completely upside down. It is an album that addresses both personal emotions that one has encountered oneself as well as fundamental current social conflicts. The cover of the album reflects the sphere in which the band moves with their latest work and symbolises the many thoughts and own conflicts with a burning ship in the sea, which could also take place in one's own head. Especially songs like "Borders" inspire reflection, Quitters remark:
"Between the recording of this song in February 2021 and the release of this video, thousands of refugees have died in the sea, in the ocean, in the mountains, in the forests, on their way to Europe. It is very difficult to find their names, their ages and their stories. It is also hard to see how invisible and dehumanised these people become with a single word migrant. They rarely deserve the word refugee and they never deserve to be addressed by their name when it is known."
A message that definitely gets under your skin.
The individual themes are accompanied by partly increasing dramatic melodies, which create an intense listening experience. The band retains its classic punk rock sound here, but one notices enormously the extent to which it has developed further. Quitters play their very own mix of punk rock and progressive, alternating between hard tones and strong melodies. Especially songs like "Broken World" - hearing it live would certainly be an experience to tell your grandchildren about.
Their new album also brings one or two surprises that fans can look forward to. Especially in the song "Atacama Desert", inspired by a desert in Chile, you get to hear parts of the band in French, where you even get the feeling that they are completely absorbed in it. Amazing! We hope to hear more of this in the future.
Quitters have not only shown with this album how much they have developed, but also what they have in them musically and where they want to go. We are already looking forward to the release of "Captain Are We Thinking?"and definitely recommend not to miss it.
Lila is out, be the beat with you!