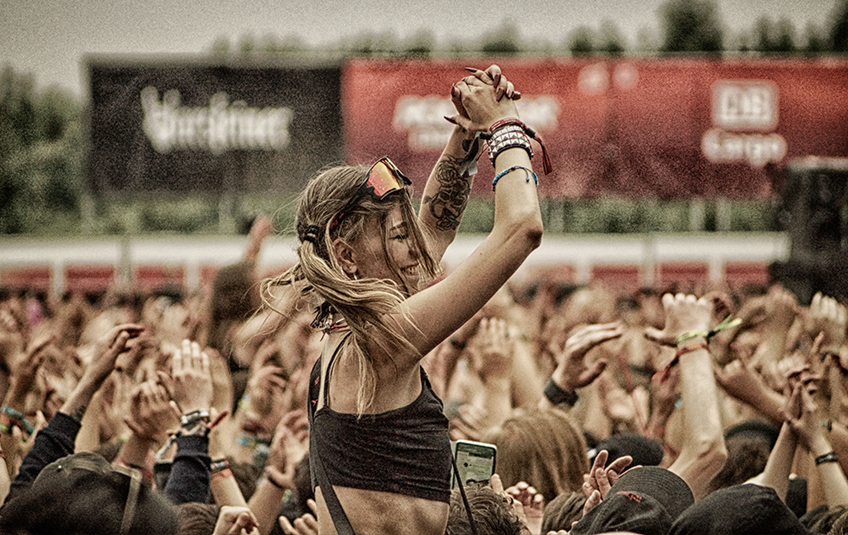 Rock am Ring Timetable: our highlights of this years festival + route-guide
Hi and welcome to Lila's news!
In less than two weeks, the twin festival Rock am Ring announces itself once again and invites you to celebrate the weekend of June 2 with a total of 72 bands. So that you don't miss any highlights during the three days, we have put together a timetable route for you to orientate yourself by:
On the first day, the opener of the festival should not be missing: Flogging Molly will do the honors and open the festival on Friday with a lot of Irish rock and punk. The US-American rock band belongs to the greatest of their genre and celebrates a fitting debut of the first day with songs like "Devils Dance Floor". Other bands like Jinjer, the Ukrainian progressive metal band with power woman Tetjana, as well as Fever 333, who played last year on the second stage and this year - rightly - on the main stage, will also celebrate the day like there is no tomorrow. That's why we can only recommend you to visit the main stage, the Utopia Stage, as often as possible on the first day to experience these three acts.
Another act also playing on the main stage is Yungblud, who you simply have to see live! With his alternative rock sound, which is fed by many different influences, the singer has worked his way up from a young, passionate musician from London to an international great, who has long deserved to play on this stage. The musician will take off the stage that much is certain, if not before Jinjer and Fever 333 have done it.
After these three acts you should look if you've ever wanted to see them live: Whether the creators of the song "Rollin'", Limp Bizkit, on the main stage or Set It Off, who will put on an incredible show on the small Orbit Stage. We were already able to experience Set It Off in 2022 and will definitely repeat it this year! Other highlights will follow on this day, such as Motionless In White and Silverstein, who will also play on the Orbit Stage. But also the bands that overlap with them and play on the main stage are absolutely worth seeing: Rise Against and Foo Fighters hereby form a successful conclusion of the day, which can only be completed by the performance of Messuggah in the late evening.
First day - Timetable route
Flogging Molly (13:45 - 14:30): Utopia Stage
Jinjer (15:00 - 15:45): Utopia Stage
Fever 333 (16:15 - 17:00): Utopia Stage
Yungblud (17:30 - 18:20): Utopia Stage
Limp Bizkit (18:50 - 19:50): Utopia Stage / Set It Off (19:35 - 20:25): Orbit Stage
Rise Against (20:30 - 21:45): Utopia Stage / Motionless In White (20:50 - 21:45): Orbit Stage
Silverstein (22:15 - 23:15): Orbit Stage
Foo Fighters (22:45 - 00:45): Utopia Stage
Messuggah (23:45 - 00:56): Orbit Stage
The next day starts as swinging as the first one: Cleopatrick welcome the festival on Saturday on the Mandora Stage, giving free rein to their energetic, dynamic performance. This is followed by Bury Tomorrow, a band whose performance will have you hearing the choruses of their fans all the way to the Utopia Stage. Last year on tour with August Burns Red we got to experience this first hand and even remembering back now, I can feel the goosebumps on my arms. You don't want to miss this!
With a little speed it goes back to the main stage, where Nothing But Thieves are already waiting for their performance. Future-oriented, musically adept and above all energetic, the band forms a voice for the soundless with their songs and makes you think, especially with songs like "Futureproof", "Moral Panic". However, they bring their sound across clearly and dynamically, which is why we will be at this concert. After Nothing But Thieves we go directly back to the Mandora, not to miss Halestorm, who might perform their song "Break In" with singer Amy Lee, who also play that day with Evanescence in the "Late-Night-Special". But after this strong performance there will be no breather so fast because the Nova Twins will also play this year at the festival - Our absolute insider tip for this year! A concert that will make you sweat.
This is followed by many different acts that also deserve to be seen live, but also overlap a bit. You can't avoid that completely when planning, but the distance between the Mandora and Orbit Stage is not particularly far, so you can easily go back and forth to catch your favorite acts. For us, this includes bands like Gojira, The Menzingers as well as Papa Roach, who certainly won't miss the chance to provide a surprise or two. The evening will also be colorful and crazy with bands like K.I.Z., Kings Of Leon and Evanescence.
Second day - Timetable route
Cleopatrick (13:30 - 14:05): Mandora Stage
Bury Tomorrow (14:25 - 15:00): Mandora Stage
Nothing But Thieves (15:30 - 16:15): Utopia Stage
Halestorm (16:30 - 17:15): Mandora Stage
Nova Twins (18:20 - 19:05): Orbit Stage
Gojira (19:05 - 20:05): Mandora Stage
The Menzingers (19:30 - 20.05): Orbit Stage
Papa Roach (20:35 - 21:50): Mandora Stage
Kings Of Leon (23.10 - 00:40): Utopia Stage
Evanescence (00:25 - 01:45): Mandora Stage
The last day confronts one with a difficult decision right at the beginning: Boysetsfire, Maggie Lindemann or The Warnings: all artists will play on different stages, but will take their chance to make their performance a never-ending celebration. A decision that we will probably make shortly before.
Then it's into the Spiritbox mosh pit for thirty minutes before the performance of Sum41 , who recently announced their breakup. After 27 years, it's time to say goodbye to one of the most iconic punk bands of our century, but they will only retire completely after another album and a big world tour. For some it is now called to use this chance and see them live on site, before they part and dedicate themselves to their own projects.
Another stage hopping and the choice between NOFX on the main stage and Three Days Grace on the Mandora stage before bands like Turnstile, Arch Enemy and Architects announce themselves. The madness! We can definitely recommend the performance of Five Finger Death Punch, who will contribute a good load of rock this year. In the evening comes the big highlight of the day with the Toten Hosen, Bring Me The Horizon as well as Thees Uhlmann, who will play the last shows of the year on their respective stages. A fitting finale that rounds off the festival experience.
Third day - Timetable route
Boysetsfire (14:10 - 14:50): Utopia Stage / Maggie Lindemann (14:15 - 14:45): Mandora Stage / The Warning (14:30 - 15:00): Orbit Stage
Spiritbox (15:05 - 15:50): Mandora Stage
Sum41 (15:20 - 16:20): Utopia Stage
Three Days Grace (16:15 - 17:00): Mandora Stage
NOFX (16:50 - 17:50): Utopia Stage
Turnstile (18:20 - 19:30): Utopia Stage
Arch Enemy (18:50 - 19:50): Mandora Stage
Architects (20:20 - 21:20): Mandora Stage
Five Finger Death Punch (22:00 - 23:15): Mandora Stage
Die Toten Hosen (22:10 - 00:10): Utopia Stage
Bring Me The Horizon (00:00 - 01:30): Mandora Stage
Thees Uhlmann (00:05 - 01:15): Orbit Stage
We are really looking forward to meet all the artists this year and of course you on site! If you don't have a ticket yet, you should get one as soon as possible: www.rock-am-ring.com
Lila is out, be the beat with you!