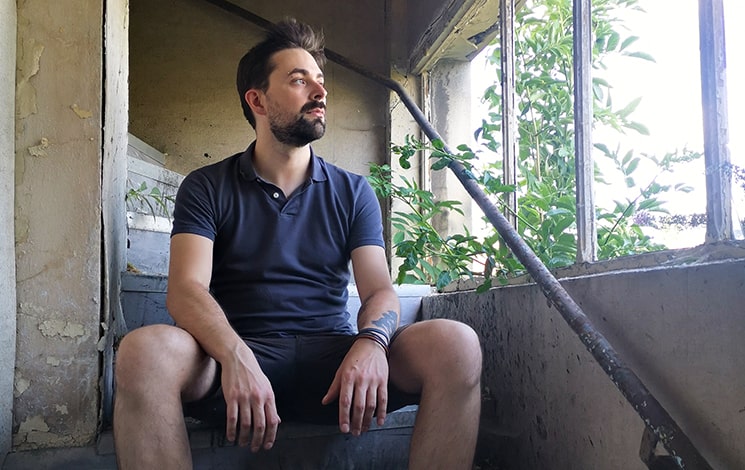 Tom Panier releases new EP "Solace" with solo project Ubik
Hi and welcome to Lila's news!
Our magazine likes to write about the big bands, what they are doing and which of them might release a new album, but they also started small and so we are always happy about requests from newcomers to get to know their music. Our scene is changing and so are the established music genres like rock or metal, which are just being shaped by new bands or musicians from the scene. One of these musicians who realized this with his latest solo project is Tom Panier.
With Ubik, the guitarist and singer, whom you may know from the band Bare Teeth, starts a new chapter in his career as a musician. With his new project, he presents his interpretation of punk rock, melodic and above all dynamic. You can hear this on his new EP "Solace", which combines punk with a modern rock sound and is partly reminiscent of bands like Tiny Moving Parts. The change between loud and soft tones gives his sound an incredible intensity that can only be topped by the resonating energy. Especially "Over The Moon" is one of our absolute favourites on the EP, with five songs that give a small insight into his music. The crowning finale is a cover of "Battler VS Gym Leader" from Pokémon Red and Blue Editions.
"The EP's goal, and more globally Ubik's, is to have its listeners take a step back to think. Solace begins with a very broad, theoretical question (do we have free will, or is the Universe determined?). It then gradually closes up by focusing on our political and social system's democratic character (or lack thereof), before moving on to our relationship to each other and ourselves. I guess I just talked about what's already in my head all the time."
The EP was vocally supported by Tom West (Darko) and mixed by Trevor Reilly. For Ubik, it can be said that this is just the beginning, because the musician is already working on covers that he wants to publish on his YouTube channel: YouTube. Listen in, it's worth it!
Picture from: Titouan Andritsos & Romain Gosse
Lila is out, be the beat with you!