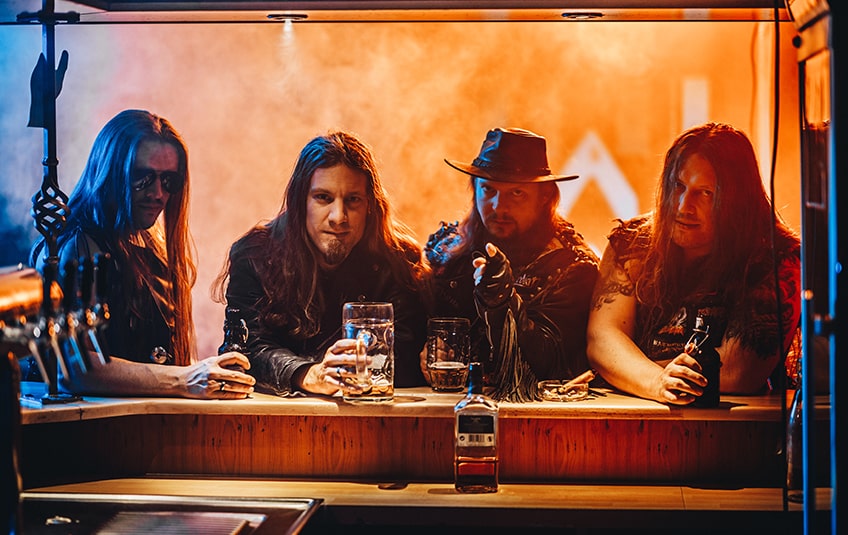 Beer, metal and more beer! Steelpreacher in interview about their twentieth band anniversary and upcoming album release
Hi and welcome to Lila's interview!
For the twentieth anniversary of the band we worked with the guys from Steelpreacher and talked about her band, her best memories of the last years and the upcoming new album. "Back From Hell" (Save the date! May 8). An honest, cheerful interview that you can read here now.
At this point: Many thanks to Steelpreacher & Jan from A Chance For Metal!
LILA: The Corona crisis affects our daily lives and keeps us away from almost everything we love, like concerts or festivals. What do you miss the most since the beginning of the pandemic? And what would you like to do if you had a "Corona-free day" would have?
STEELPREACHER: First to the whorehouse! Forget the old people - inoculate the hookers first! Öööhm... I mean... If there is a "Corona-free day" we would probably schedule our album release party on that very day and really kick some butt
LILA: Madness - Twenty years Steelpreacher! I would like to know how it feels to be together as a band for so long and what keeps you together in the first place? Is there a secret recipe?
STEELPREACHER: The recipe is simple: barley, hops and water! I think our huge advantage is that we have never had to live off the music. Therefore we have no financial or creative pressure. We make music when we feel like it and only in exactly the way we want to. Meaning: We have always done it just for fun. The day it's not fun anymore we stop.
LILA: On May 8th of this year you will release your brand new album "Back From Hell" in the starting blocks. Tell us, what will fans of your music and those who will become fans expect? What song would you recommend for the perfect introduction to your new work?
STEELPREACHER: You don't really need to expect anything new from us. Most songs are snotty rock'n'roll numbers with three chords that are just fun. As usual, here and there a little power metal number gets lost in between. Some songs are faster, others a bit slower, some are straighter others a bit more complex. Therefore, it is hard to say which song would really be suitable as a "gateway drug". I recommend the following: If you don't like a song of ours, just listen to another and then another and then another. Sooner or later you'll find one you'll like 😉 Otherwise, our band credo applies: "If we suck too much, you're too sober!"
LILA: As I have already had the pleasure of noting, beer for Steelpreacher a high value... the question arises for us Cologne residents - beer or Pils?
STEELPREACHER: Pilsner IS beer! Therefore, the answer is: YES!
No matter what all say: Kölsch is NOT beer!!!
LILA: Your band has been around for quite some time and has certainly experienced a lot. What would you say was the best and the worst thing you have been through together as a band?
STEELPREACHER: Our gig at the Headbangers Open Air will probably stay in my memory forever. We were the first band to play in the morning at an ungodly time, but we had a good 1000 people in front of the stage partying with us. Even more unbelievable: Afterwards we had to sign autographs for 45 minutes without interruption - I would never have thought that was possible! We have never experienced really bad things as a band, so I would say that the Corona crisis is actually a kind of low point in the band's history. But hey, even in a low point we manage to put out a new album 🙂 .
LILA: Your upcoming album is titled "Back From Hell" - What does it mean for you to return from hell? What do you associate with the title?
STEELPREACHER: The last album was five years ago and you need a good excuse why it took so long. That we were in hell in the meantime sounds cool and can't be refuted.
LILA: Imagine you are stranded on a desert island: Which three things would you definitely not take with you?
STEELPREACHER: Politics, religion, beer in green bottles!
LILA: What would you like to give to your fans?
STEELPREACHER: Beer! Cold, freshly tapped beer!
Image source: Steelpreacher
Lila is out, be the beat with you!