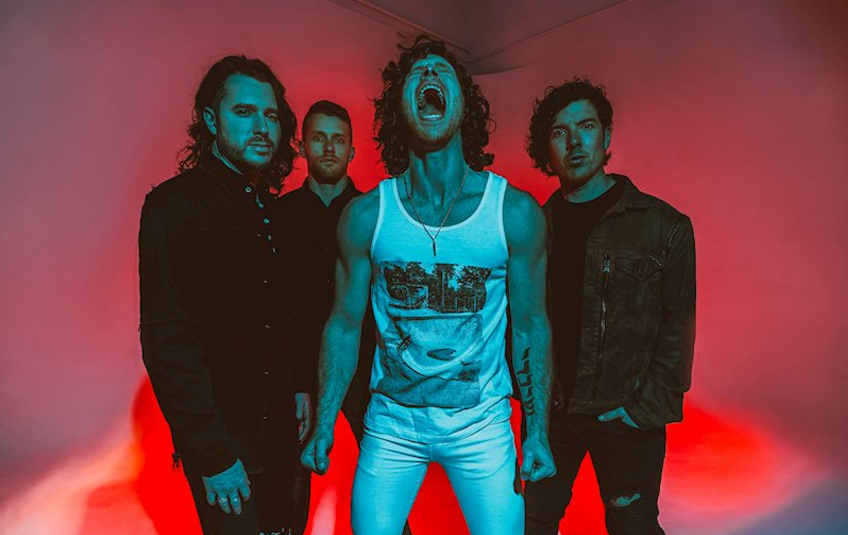 Interview with Mark Vollelunga from Nothing More + Insights about the new album "Spirits
Hi and welcome to Lila's interview!
For the release of their new album "Spirits" we took the opportunity to talk to Mark from Nothing Moreto learn more about the creation and background. We got detailed and direct answers from him to all our questions, which lead us to today's Album Insight story, in which you get the most important information about the release. If you want to know more about the story behind "Spirits" and which Spirit-Type the individual members have, you should definitely read on.
Special thanks toStefan from Head Of PR & Mark from Nothing More - You rock!
Lila: How are you?
Mark: Hey Lila, I'm doing well and can't wait for the album release tonight/tomorrow!
Lila: We and especially your fans have been waiting a long time for a successor to "The Stories We Tell Ourselves" and now we get a proper successor with "Spirits", which also stands on its own. When you compare them, where do you see differences between your last and your current album?
Mark: You know I think the biggest difference with this album is time. Due to the pandemic we all really dove headfirst into this record and we took advantage of all the time by going deeper down artistic rabbit holes. Sometimes they turned into progressive sections of songs like Spirits, Face It, and Ships In The Night… and sometimes they were a lost cause and turned into potential future songs that just didn't make it on this record. I'm grateful looking back at this process to see how we've matured and am very excited to see how the world feels about our next musical endeavor.
Freya: Your band puts a really coherent and profound concept behind every album, which also grabbed me with your current one and exceeded my expectations once again. How did you come up with the concept? And can you dive a bit more thematically into your latest work and share its background story?
Mark: Thank you very much for the kind words. It's always nice to hear words of encouragement for something you've put a lot of time and energy into. The title Spirits really sums up this mental writing process we've all been going through. The last two years have been hard for each of us for so many different reasons. I think we've all been dealing with our inner demons and getting to know them better... and a big theme of this record is duality and acceptance of self. We are all capable of wild demonic and angelic things. Instead of shying away from either side, we've learned to come to terms with it and realize that as humans we are both. Sometimes you have to give way to your animal side to get through times of fear in life...much like the story of the book/movie "The Life of Pi". And by the same logic, sometimes you have to find balance and inner peace in a life situation in order to weather a storm that you endure in order to relax and be fully present. I know that was pretty lengthy, but this album is really deep and we put a lot of ourselves into it, and I hope the world can get into it and dive down the rabbit hole with us.
Freya: Listening to your new record, you definitely don't talk about how ""good"" the world is, but rather about conflicting feelings that have arisen in recent years. If you had the chance to change the world with one of these songs, which one would you choose and what would you want to change with it?
Mark: That's a good question, Lila. It's always hard to think about a supernatural change that you can bring about yourself, because the world is constantly swinging between good and evil. No one ever wants these terrible things to happen, but often it's the rough treatment that gives the most precious stones their luster. Anyway, your question remains...so I'll play along. I would choose the song Best Times. It's the light and positivity in this dark record. The song really talks about embracing the present and the inner being. It's about soaking up the 'now' and realizing that sometimes we don't know we're in the best times of our lives until they're in the past; that's the irony of it. But when you realize that, you have a choice of where you want to live: in the past, in the future, or in the now. That theme runs throughout the record as well, and I think it's a great lesson that is so simple, but mind-blowing if you allow it to change your life. Our world would absolutely benefit from it.
FreyaGut Ding hat Weile" - that's what they like to say in Germany when something just needs time to become good. Between your two albums lies a longer creative phase, which was perhaps also necessary to create "Spirits" so special. Can you tell me how you experienced the process of creating your new album and what lessons you learned that you now want to share with the release of your latest album?
Mark: Yes, that's definitely a special line, I have to agree. The majority of this album was made separately. We shared most of it online and were rarely in the same room together. It's clear that this process took much longer for us, but we had no other choice due to the pandemic. It was often very frustrating and sometimes it was hard to feel the synergistic "magic" that happens when you are in a room together. Nonetheless, that's exactly what this record needs. We all learned a lot and we will definitely never make an album this way again, but the result speaks for itself and I'm very proud of this record and once again excited to see how it affects the world.
Freya: Of course, I also did the Spirit test (result: Fuse) and was actually amazed at how accurate it really is. The members of our mag were also really impressed. I would be interested to know which "superpower" or "Spirit" you have?
Mark: That's amazing to hear Lila. I am a Fuse as well and so is our bass player Dan. Jonny is Tru and Ben is Constant. I love meeting my fellow Fuses. It's almost like you immediately share a likeness and
mutual respect for another human into how they would respond in certain life situations.
Freya: You have another chapter coming up with the release of your new album. What are you most looking forward by opening it and what are your wishes for the future?
Mark: For some reason I have a strong feeling this record will make some big waves for us internationally. I know the band wants to tour and experience more of the world and have that world experience us too. I am also just looking forward to seeing how these songs affect people and am anticipating their feedback.
Freya: What do you want to say to your fans?
Mark: I want to say thank you for being patient with us. This album has taken a long time and been the most painful one to create… enjoy the deep dive… much love from all of us in Nothing More.
~Mark
Picture from: Jody Dominque
Lila is out, be the beat with you!