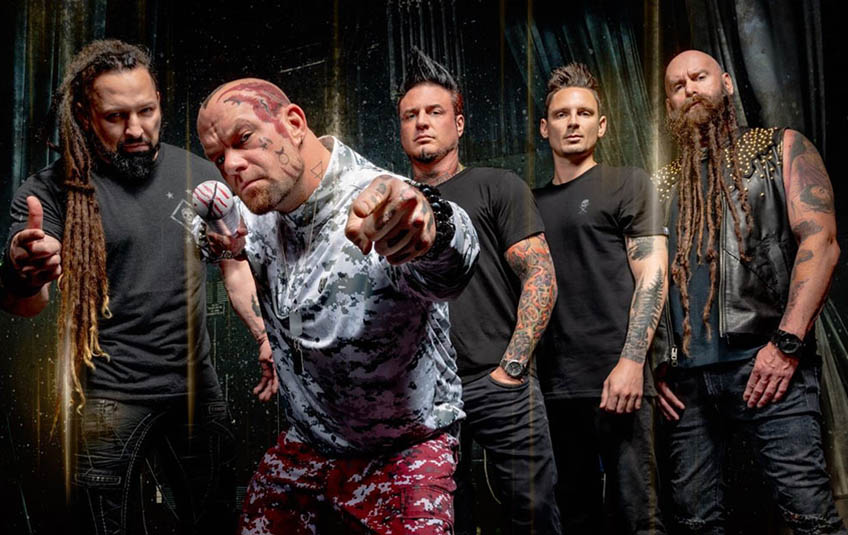 Five Finger Death Punch present "A Decade Of Destruction - Volume 2".
Hi and welcome to Lila's review!
Who would have expected that? After the successful release of their studio album "F8" , the work took the German "Album Charts" by storm and also their latest single "A Little Bit Off" has been at the top of the "US Active Rock Charts"for over four weeks. But that's apparently not enough for the guys by a long shot and so Five Finger Death Punch follow up with "A Decade Of Destruction - Volume 2" , the follow-up to their 2017 Best Off album "A Decade Of Destruction - Volume 1".
Already with the last best-off album we took the opportunityto listen to the songs in advance and of course we didn't miss the chance this time either. The beginnings of 5FDP are now almost 15 years ago and in this time the guys have established themselves as an international great of their genre. Already at the first Best-Off the band has selected songs next to classics like "Bad Company" , which perhaps not everyone would have expected on a Best-Off and exactly this line they have remained true this time.
Well-known songs like "The Tragic Truth" or "Hard To See" are joined by five selected tracks that will surprise one or the other long-suffering fan. The first song is even a brand new, uncut diamond in the rough called "Broken World" . In the song, 5FDP denounce the ongoing grievances and problems that we can hear about every day in the news. It is an anthem that gives voice to the defenseless and laments in their place. 5FDP showed in recent years again and again how important it is to you to stand up for others. Among other things, the guys are committed to U.S. veterans as well as those affected by post-traumatic disorders and show through "Broken World" once again how important it is to address such issues.
On the next track, a well-known song of the band was put on new: We are talking about the classic "Wrong Side Of Heaven", which was given new life on the disc by the quartet and transformed into a modern acoustic version. Furthermore, 5FDP got support from Steve Aoki, Felmax and Joe Rooster on three tracks to give the songs "Trouble", "Wash It All Away" and "Bad Company" a new touch. Although the songs are a little pop/techno heavy, we liked it and together with the other songs on the disc it offers a successful and surprising change.
The album is available from this Friday as a CD, but can also be purchased from the 20th November by vinyl fans in the colors orange, purple as well as white. My Immortals, from us there is an absolute buy recommendation at this point!
Photocredit: Stephen Jensen
Lila is out, be the beat with you!