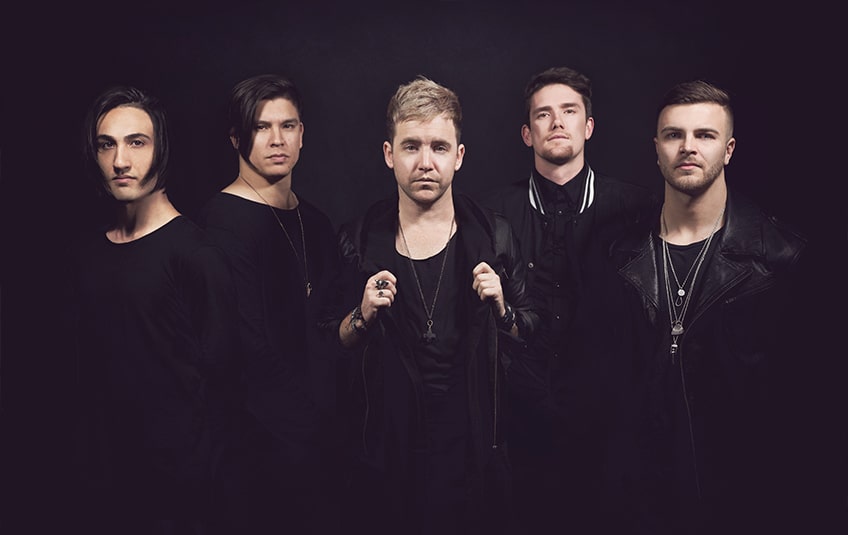 Interview with Michael from Written By Wolves
Hi and welcome to Lila's interview!
My Immortals, may we introduce you? Written By Wolves. To coincide with the release of their brand new album "Secrets" we were allowed Michael from Written By Wolves to ask him a few questions about their band, their music and their future goals. An exciting interview, which we really enjoyed. Read it yourself!
At this point: Many thanks to Peter from HEAD OF PR and Michael from Writteny By Wolves! - You rock.
Here is the german version, you can find the original below.
LILA: Soon you will release your brand new album "Secrets" to your fans. How was the work on it and what can they expect from the new work?
MICHAEL: We can't describe how proud we are of the album. It was a hard piece of work that took us a year of blood, sweat and tears to get to this point. It represents our view of things and we hope that once our fans have played the first song, they will have a hard time hitting the stop button before the album is over. We worked really hard to make each track as unique as possible and we hope that our fans will be a little surprised when they hear how we managed to record this sound.
LILA: In your sound there are different elements from pop, rock and electro. For someone who doesn't know your band, how would you describe your music?
MICHAEL: We describe our sound as Cinematic Rock. When we formed this band, the idea was to do something different than anything each member had done before. We were all from Hans Zimmer and its ability to create a soundscape, and wanted to try to apply that to rock music. With that in mind, we also wanted to take our favorite elements from all genres and figure out how to bring them together to create something new.
LILA: If you had the chance "president of the world" for one day. What law would you pass? What would you like to change in this world?
MICHAEL: That's a very interesting question, one I haven't been asked yet! This album deals with many problems that circulate in the world, focusing on issues such as mental health and suicide. We would love to see changes in societal norms, in how we deal with mental health and the stigma that comes with it (when we open up and talk about the demons we are fighting). I'm not sure I'm the best candidate for the position of "president of the world" would be, but we certainly want to help change the way these things are handled.
LILA: A year has passed since you were on tour. Tell me, when will you go on tour again? What was the craziest thing you have experienced so far?
MICHAEL: We have a few festivals coming up during the summer in New Zealand and are currently working on a tour to celebrate the release of "Secrets" to celebrate. After that, we're looking for options and opportunities to finally come overseas and meet all our amazing fans around the world.
We've had some crazy tour experiences, but the first one that came to mind was in Nelson, New Zealand towards the end of the Blind scoff- and Devilskin-tour. The guys from Devilskin brought us to this bar and shortly after they left, all hell broke loose and everyone started fighting. We were trying to break up the fight and suddenly someone hit me from behind and sent my freshly poured beer flying across the bar. Then out of nowhere someone hit our drummer, Karl, and he did this amazing backward roll and seamlessly jumped back up and finished the routine like an Olympic gymnast - it was pretty impressive. Before we knew it, we were being escorted from the bar and it seemed like every chav in Nelson wanted us. No one knows how it started or why we got kicked out, but we survived it and can tell the story and got some pretty funny stories to go with it.
LILA: Over 125,000 people listen to your music every month, you have shared the stage with various international artists such as Limp Bizkit, Escape The Fate or Machine Gun Kelly and now, you are releasing your first album. Tell us what makes Written By Wolves so successful and what is your goal for the next few years?
MICHAEL: We are incredibly grateful for all the support and success we have received. Written By Wolves but there is still a long way to go and a lot we still want to accomplish. A big focus for us is to perform all over the world and meet as many of our incredible fans who listen to our music as we can.
Lila is out, be the beat with you!