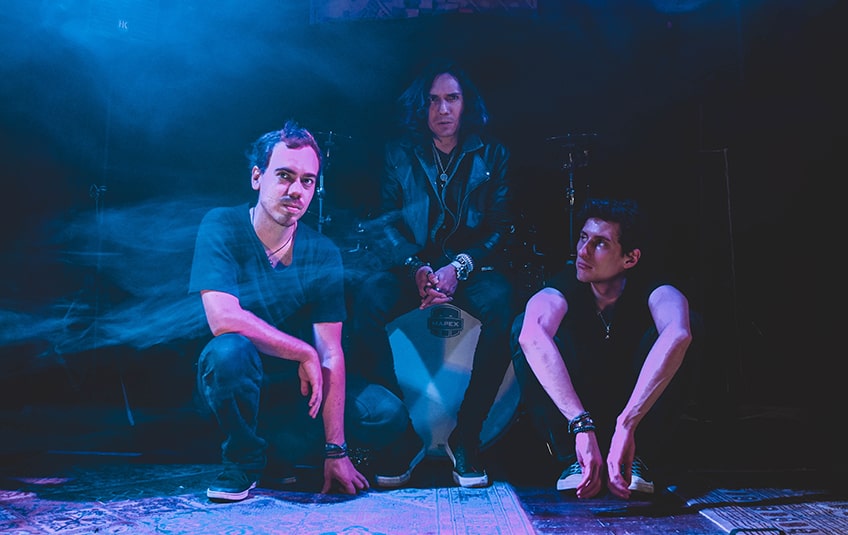 In an interview with Saint Evil Street + Insights about their new EP "Cursed".
Hey and welcome to Lila's interview!
My Immortals, is you Saint Evil Street a term? The guys come from France and have recently released their first disc "Cursed" on the market. We interviewed the guys about their latest piece and learned a lot about it, which we don't want to withhold from you. At this point a huge thanks to Valentinewho made the whole thing possible and also to the guys - You rock!
What came out of it, how it went and much more, you can now follow in German (sense) and in English. Have fun!
LILA: On March 22nd you released your brand new EP "Cursed" an intense as well as melodic excursion into the world of human thoughts. Tell us, what can your fans expect from your new record?
SAINT EVIL STREET: This is our first release. We wanted Saint Evil Streets sound and style, so you can get a first taste of our work.
LILA: Saint Evil Street exists for several years and has already experienced a lot. What was the best and what was the worst experience you have had together as a band?
SAINT EVIL STREET: I can definitely say that the whole experiences with the band, are good experiences. We have such a good connection. We all look in the same direction and every rehearsal, every gig and every moment we spend together is another good experience.
The worst was definitely the moment when we were recording and I got sick. We had to redo the vocal recordings, which took quite a long time. It frustrated me a lot, but in the end, we got everything done.
LILA: If you had the chance to play with one of your favorite bands, who would it be and what song would you play together?
SAINT EVIL STREET: I think we would all System Of A Down take. We identify ourselves with the way they play music and we would have a lot of fun performing "peephole".
LILA: "Cursed" contains four incredible songs. Tell us about your favorite song on the EP and its message.
SAINT EVIL STREET: I know that Valerian "All My Life" likes. I personally prefer "Lying with The Truth" and I think Valentin preferred "Lying With The Truth" also. Fun fact about the EP that no one likes the same song!
LILA: On your band website you ask in your section "Thoughts?" after personal experiences with their own "Tale Of Melancholy Hills" and the best "Life Is A Joke". Where does this idea come from?
SAINT EVIL STREET: We didn't want to have a classic "contact form", because seriously, who contacts a band through the website nowadays (ahaha). Still, we wanted something different and this form gives strangers the chance to share stories and jokes with us, how cool is that? At the moment we are still waiting for that but maybe readers of this interview will be inspired!
LILA: What is your personal "Tale Of Melancholy Hills" and best "Life Is A Joke"?
SAINT EVIL STREET: Hmm, our "Melancholy Hil"? Have you seen on the "Cursed" Cover, seen the man with the half-empty bottle of alcohol, walking along the polluted river towards the rising sun? Well, that's one of us, and we've all been there once. We all know those mixed feelings of joy and loneliness, those moments when you look over your shoulder at yourself, where time stops and you feel a self-centered and peaceful melancholy.
And for the joke, here's one! After Valerian had finished the drum recordings, we saw that a difficult part in "Wolfy" (The Wolf Behind The Door) was deleted! It was late, everyone was tired. At that moment we had a choice, so what to do? Cry or laugh? Well, that was the moment when we decided to laugh. Because you know this classic "life`s too short to be serious" Thing.
LILA: Where do you see Saint Evil Street in five years?
SAINT EVIL STREET: The relationship we have is good, as a band and as friends. I see the band in a progressive development. So, in five years, hopefully we will record our tenth album, ahah.
LILA: Imagine you are "Presidents Of The World" for one day. What things would you like to change?
SAINT EVIL STREET: There are many things to change, but for one day, I think I would announce that all musicians and positive activists should own the day and take to the streets to express themselves, motivate society and inspire young people to start positive actions all day (clean the ocean, plant trees, make our planet smile a little).
LILA: Finally, do you want to say something to your fans?
SAINT EVIL STREET: We are really grateful for the support we have received from our friends, our families and our fans. We can only thank you incredibly for your support and pay with it in the form of our work.
Lila is out, be the beat with you!