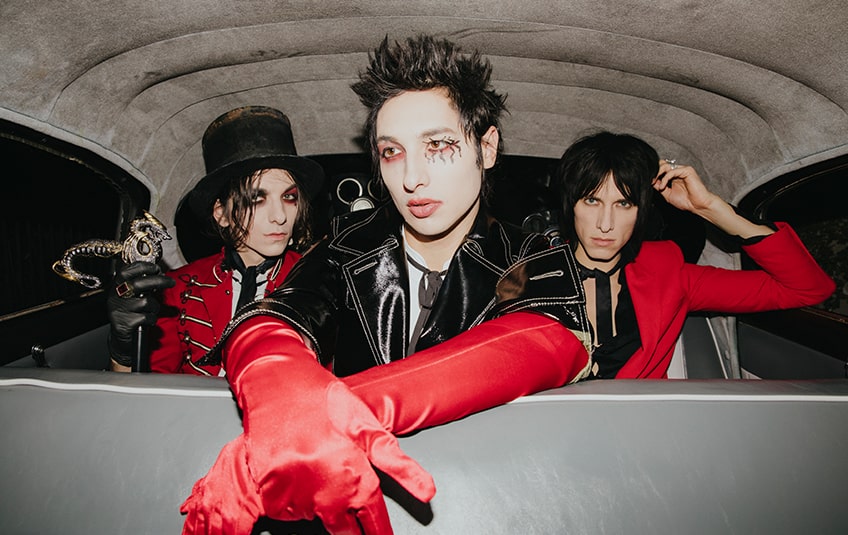 Palaye Royale conquer the rock world with "The Bastards"! Insights into their latest work
Hi and welcome to Lila's review!
An album that I personally have been looking forward to and would like to suggest to you today is the brand new disc by Palaye Royale, which took place on May 29 under Sumerian Records will appear. Presented under the title "The Bastards" the band now brings out its third album, which fans have been waiting for for a long time and which, as much can be revealed in advance, brings some surprises with it...
Palaye Royale consists of the brothers Remington Leith (vocals/ guitar), Sebastian Danzig (bass player) and Emerson Barrett (drums), who grew up together in Toronto, Canada. In their early teens they formed the band Kropp Circlebased on her actual surname, which she later changed into Palaye Royale in 2011. From the first smaller gigs in their former adopted hometown Las Vegas, the band has grown to a size that has played in concert halls together with artists like Marilyn Manson performs and has already traveled the world. Palaye Royale is no longer a blank slate and enjoys an ever-growing fan base, for which they have become a kind of voice. The fashion art rockers with the extravagant outfits, the raw 70s/80s rock music and the strong stage presence are definitely unstoppable in their current form and show that clearly on their latest work.
With their new work "The Bastards" present Palaye Royale in a total of 14 songs and a further bonus track their most adrenaline-charged and personal work to date. Beginning on a distant island called Obsidian in 1888, the theme album dives into a world that is based on our society: with the intention that artists as well as free thinkers may exist in this world and live out their originality, they were poisoned by the political power suburb and adapted to society. In order to remain an individual and keep their otherness, one must wear a gas mask for protection. Building on this theme, that individuality is nipped in the bud, other socio-critical topics such as one's own mental health, gun violence as well as self-acceptance are dealt with, which are of particular interest to today's generation. Especially "Lonely", one of my absolute favorites, draws attention to these problems and tells of singer Remington's past. For this he reveals: "Lonely' is about the mental and physical abuse I endured as a child. Growing up, I went through so much shit and at points felt so low I couldn't see a way out. It has effected me deeply throughout my life but I want the world to know that no matter what you're going through, if I can make it out on the other side, so can you.". In the music video for the song, the suicide hotline, drug abuse hotline as well as the child abuse hotline are mentioned at the end.
Musically speaking "The Bastards" a massive further development of their sound universe and is in no way inferior to the previously released albums. Dark, wicked, varied as well as emotional one treads together with Palaye Royale a destructive path that stretches all around the world from "The Bastards" transforms. With influences from post-hardcore, metal as well as pop music, they transport to the listener an intense sound that captivates you from the first to the last moment. It is an album that literally absorbs and reinterprets the thoughts of this world. "The Bastards" is a complete package that captures the band's development so far, both musically and lyrically, and opens up a whole new horizon for them. About the creation process of the album tells the band:
"We rented an AirBnB in Joshua Tree, one in London, and we kept on going in little areas and writing new sections of the album. It's crazy - we thought the album was done in March of last year, and we did the heavy stuff in Joshua Tree. We wrote 'Little Bastards' a week before the album was supposed to be mixed and mastered".
My Immortals, I can only recommend you to listen to the new record of Palaye Royale and make up your own mind about it. Save the date! Our "Album of the month" for May.
Curious? Then you should watch the music video for "Lonely" here:
Lila is out, be the beat with you!