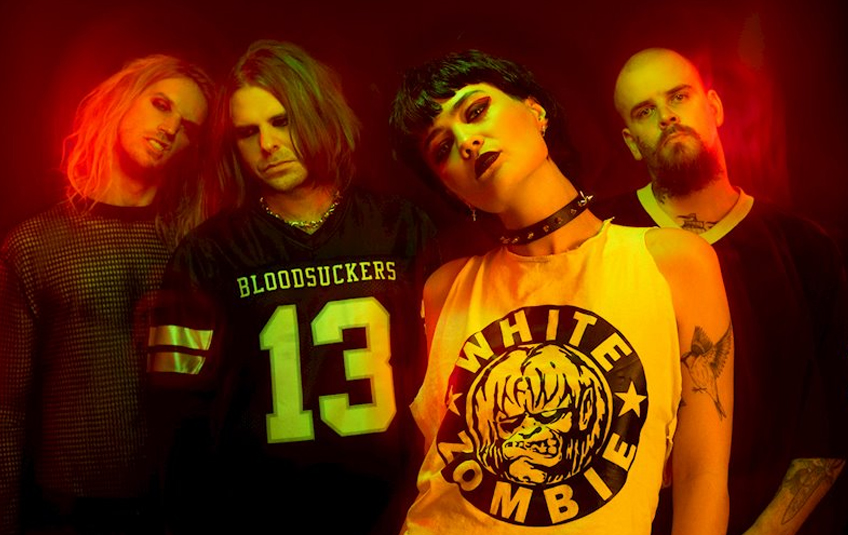 Bloodsuckers forever, Saint Agnes forever - The band Saint Agnes presents their second album + Our "Album Of The Month"
Hi and welcome to Lila's review!
A band that is being treated as the New Big Thing and whose sound doesn't leave even the devil cold: Saint Agnes release this Friday their brand new work "Bloodsuckers" unveiling an unusual second album that you won't want to miss.
Saint Agnes is one of those bands that make a difference with their sound.
Founded by singer Kitty Arabella Austen (previously Lola Colt) and guitarist Jon Tufnell (previously The Lost Souls Club) in London, the band was named after Saint Agnes of Rome. More than 300 years ago, the noble girl was to be married, which is why she tried to break her engagement, having already committed herself to Jesus Christ. When they tried to rape or burn her, she was protected by her faith and died only by the beheading of a soldier. Today she is known mainly as a saint figure and martyr.
In our case, the band's faith is not Jesus, but the music they share with their listeners. Similar to Agnes, the band does not play by anyone else's rules, but follows their own unique path, which they share with their listeners in "Bloodsuckers" .
Their new album once again clearly shows their unpolished, raw rock sound. In it they combine various influences from pop, electro as well as rock and wrap this up in a modern mix that heralds a new generation of bands. "Bloodsuckers" creates just the right atmosphere between a never-ending concert with thousands of spectators as well as a wicked pub, with smoke in your lungs and a drink in your hand. It's loud, bumpy and just makes you want more.
Created at a time when singer Kitty's mother died, the band picks up this emotional chaos in their new album and uses it as an outlet. Kitty tells about it (translated analogously):
"Creating this album gave me a reason to get to my feet at a time when I really wasn't sure if I could. I've tried to put everything I've been feeling into it, all the pain, the rage, the grief, even the unexpected moments of beauty and belief. I hope it makes you feel less alone. I hope it makes you feel bigger, badder and stronger. We might be damaged but that doesn't mean we're worthless. This is a record for the defeated, the crushed. We might be broken but that doesn't mean we're not whole. Bloodsuckers forever, Saint Agnes forever."
Saint Agnes combines the many pent-up emotions with a dynamic sound, which they bring across with an extraordinary ease. "Bloodsuckers" is an experience, a friend and a masterpiece at the same time, which we love to present you as our "Album Of The Month" .
Image source: Scott Chalmers
Lila is out, be the beat with you!