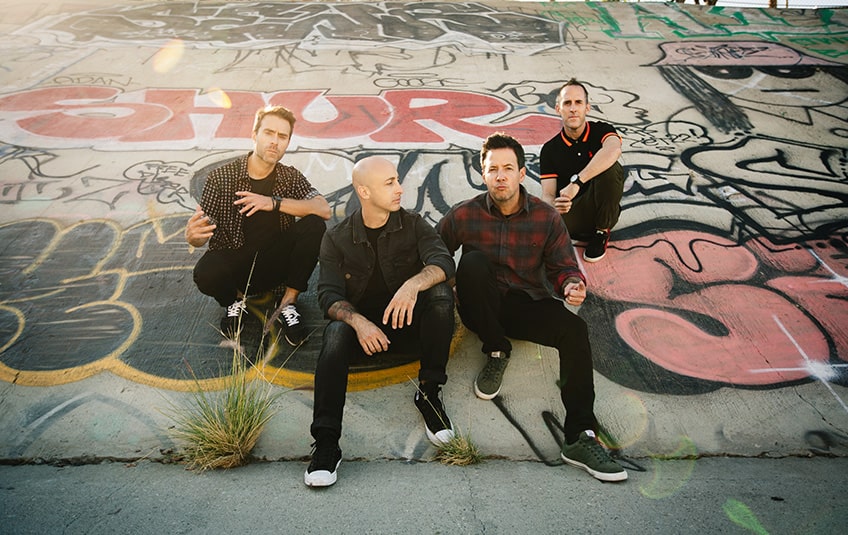 Punk giants Simple Plan unveil brand new album "Harder Than It Looks" this Friday! Our "Album Of The Month
Hi and welcome to Lila's review!
More than ten million albums sold worldwide, several platinum as well as gold awards for their works and one billion streams on all music platforms: Simple Plan has achieved a lot in their long career and, if their latest album is anything to go by, they don't seem to be thinking about stopping just yet.
First of all, a short excursion into the last decades: The band was founded in 1993 in Montreal, touring for the first time under the name Reset through their home country Canada. A few years went by until finally in 1999, after the old Reset members met again, the band Simple Plan was formed. There Pierre ventured from the bass to the microphone for the first time and became the voice of an entire generation. Over the years, the band released five albums, made friends with other bands like Blink 182 and toured the globe once. Along the way, they established their foundation, "Simple Plan Foundation", which helps teenagers in need as well as supporting medical organizations. In addition, they promote music education in schools to give young people a passion that they have also discovered for themselves.
Simple Plan has always been like that: passionate, open-minded, sometimes a little political, and yet their fans, who have supported them over the decades, are in the foreground.
Their latest work is also dedicated to their fans. "Harder Than It Looks" looks back on an eclectic career that illuminates not only the darkest hours but also the brightest. It shows that it is important to accept oneself, which in life includes progress as well as acknowledging defeats and growing from them. That this is something the band had to learn first, results in their music, where they follow their passion and have fun in what they do. A message that comes across on their latest work. The band tells:
"We're incredibly excited to finally share this news with our fans who have waited so patiently for this album. We poured our hearts and souls into these new songs and we're so proud of this record. More than 20 years into our career, we love being in this band more than ever and still have the same passion for playing music and writing songs together that we've had since day one. We made a classic, quintessential Simple Plan record that our fans will absolutely love and it was amazing to go back to our roots and unapologetically embrace what has made this band special to so many people: fun, catchy, honest and emotional songs that will make you feel less alone, put a smile on your face and give you hope. We truly can't wait for the world to hear these new songs and to play them live everywhere."
Their latest work really has it all, whether it's energetic pop-punk tracks wrapped in the classic Simple Plan sound or slow, sensitive songs that really give you goosebumps. The band has brought on this album a wide plate of tracks, which has the right soundtrack ready for almost every situation in life. Recommended at this point is their song "Ruin My Life", which also features Deryck from SUM41 as a surprise guest. "Harder Than It Looks" is a journey back in time, back to their roots with a view to a modern sound, which we gladly participated in and not for nothing gets the title "album of the month" awarded by us. "Album of the month" verliehen bekommt.
We can only recommend you to listen to the latest work of the cult band. Not only because it is the latest work of the band for a long time, but also because it is an album that really makes Bock and especially makes you look forward to the next festivals in the summer. Simple Plan is back with Sum41 on their "Blame Canada Tour" and will hopefully come to Germany soon. We will keep you up to date in any case!
Photocredit: Ellenor Argyropoulo
Lila is out, be the beat with you!