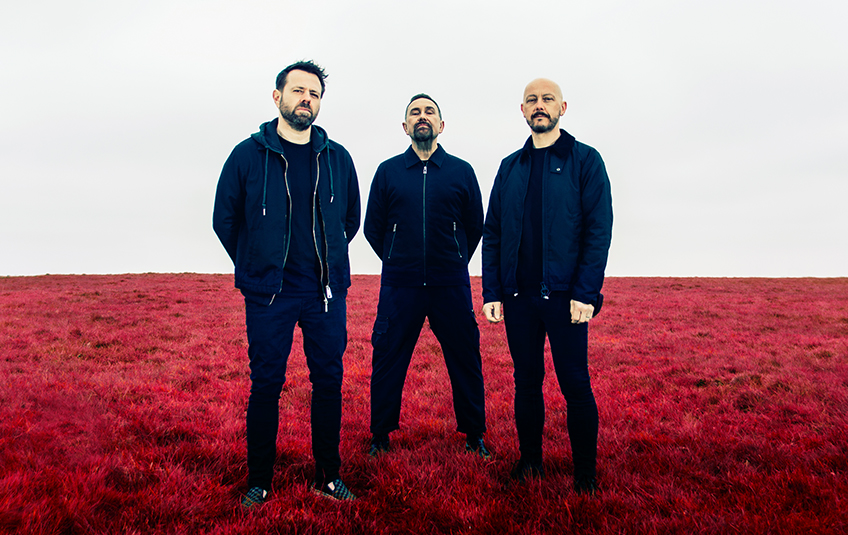 Therapy? present their new album "Hard Cold Fire" this Friday
Hi and welcome to Lila's review!
Three decades of band history and three guys following their passion: I talk about Therapy?, who are going to release their sixteenth studio album "Hard Cold Fire" on Friday.
Formed at the end of the 80s, the band has hardly chosen a more turbulent time for its foundation, but this has allowed them to be at times such as Fugazi, Nirvana and more to build an international fanbase that continues to this day. The band from Northern Ireland has played memorable concerts as well as festivals around the world, songs such as "Nowhere" and "Screamager" and established their own unstoppable sound, which moves between punk, post-grunge as well as post-hardcore and melodic hardcore.
The combination of the different styles fits like a red thread into their sound, which can also be recognized on their new album. Their new album is a coherent, musical body of work in which they combine these influences, unleashing a driving, energetic sound that literally captivates the listener. It is gripping, dynamic and at the same time leaves room for emotional moments. Therapy? show on "Hard Cold Fire" a wide range of their skills and give the listener the feeling of having met an old friend again in their new work.
"The Hard Cold Fire of the Northerner, frozen into his blood from the fire in his Basalt, glares from behind the Mica of the eyes".

- Louis McNeice, poet; 1907-1963
Similar to McNeice's poem excerpt, their new album is an experience that captures, as well as illuminates, a part of life. In "Hard Cold Fire" the band talks about personal experience accumulated over the past years and at the same time deals with their own existence. Individual moments from life are taken up and put together with other facets of our existence. The result is a listening experience that highlights the brief moments and clarifies their impact.
These moments do not always have to be pleasant, as for example in the song "Disappear", where the band talks about domestic violence. In "They Shoot The Terrible Master" the band deals with a serious topic, which is based on the final speech of author David Foster Walace, who committed suicide. These are fleeting moments that touch you briefly but clearly. About the album the band tells:
"One thing we decided when we finally got to rehearse was that we didn't want to make a lockdown record," says vocalist/guitarist Andy Cairns, "because people have already been through enough.
"When we started rehearsing the songs, we realized they had an empathetic quality. We wanted to make something you could relate to that wasn't so distant and claustrophobic - we've experienced that in the past, and it's still true today - but we wanted to make something that was more accessible and open."
"We wanted this album to feel good to play live, almost like a release after this period of stasis, but also not lingering in the whole situation - we're moving forward, and we wanted that energy to be there," adds bassist Michael McKeegan.
This energy is available in "Hard Cold Fire" clearly noticeable and should be especially appreciated by fans of the band, but also those of you who have not heard anything from Therapy? yet, be sure to listen. Save the date: 05 May!
Photocredit: Tom Hoad
Lila is out, be the beat with you!