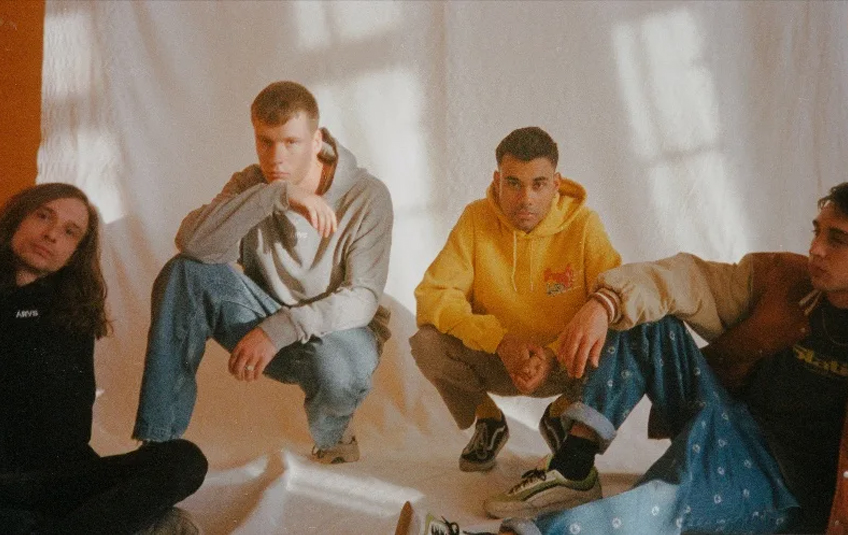 Unprocessed unveil revolutionary new album "Gold" on Aug. 12 - Our "Album Of The Month"
Hi and welcome to Lila's review!
"One more time"
At Rock am Ring unfortunately missed, we were all the more pleased when we received a message from Manuel (HOP), who had sent us the new album by Unprocessed . The band will release their latest work "Gold", which as a longplayer with 16 songs forms its own spectrum in the metal scene and, that much can be said about the missed performance at RAR, is one of our "must-haves" for the next concerts.
For all those of you who Unprocessed don't know, here's a brief overview: Four guys from Wiesbaden meet a hard progressive, core and alternative metal sound that changes their lives. In 2014, the band formed consisting of Manuel Gardner Fernandes (Guitar/Singer), David Levy (Bass/ Synthesizer), Christoph Schultz (Guitar) and Leon Pfeifer (percussion), who have already been featured on their first two works "In Concretion" and "Convenant"showed on which stages they would like to play. What is special about the band is their technical expertise, which completely captivates the listener. The same goes for 300,000 fans on Spotify, who can now look forward to a new, incomparable work by the band.
"The goal with this album was to create something that our fans have never heard before in this form. Something that on the one hand gives an insight into our artistic and personal life reality and with which we also try ourselves out a bit further at the same time".
That they have succeeded in this is shown by "Gold" , the first song. It is often the case that a band kicks off the album with an energetic first track or intro. Unprocessed take a different route and start with the already released single "Rain", whose riff went viral on TikTok.
You will hear a band that has worked hard to develop their own sound. It can be described as a modern mix of current movements in music, a groovy metal sound that combines a wide variety of influences, and a band that follows their passion. "Gold" is an album that doesn't just pass you by, but really dives deeper into the band's sound universe from song to song. One surprise follows the next and is pulled along by a lightness that creates a pleasant and harmonious listening experience. On top of that, the atmosphere on the album is so intense that you can literally grasp it. "Gold" is truly an experience that we can only recommend you to listen to.
The band spent three years polishing and shaping the album, which is why each song stands on its own. Be it a versatile song with a lot of variety like "The Longing", a song with an ominous tension like "The Portrait" or a song with German lyrics like "Berlin"which, towards the end of the album, brings out the best in her repertoire. Unprocessed simply gives everything.
"We process many of these influences in a way that is unique within modern guitar music so far. But it was never our aim to only show our technical skills, but to make a musically demanding record on which we process our very personal thoughts and feelings. In the lyrics we deal with our emotional world as well as general human interaction."
Unprocessed take modern metal in a new direction with this album whose journey has just begun. If you'd like to see the guys live but can't make it to America or Canada, you can still get tickets for their online concert on 18 September. Here is the link: unprocessed.band
Our "Album of the month"!
Photocredit: Leo Feimer
Lila is out, be the beat with you!