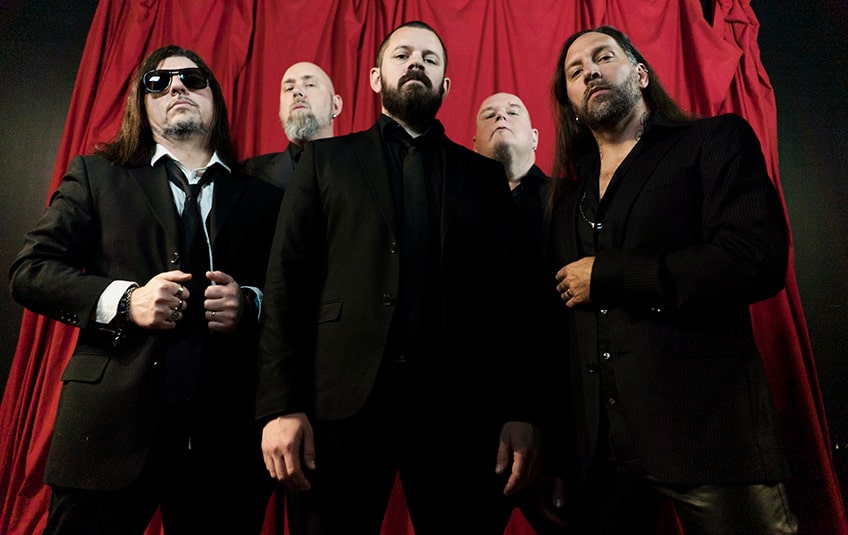 We Sell The Dead and their album "Heaven Doesn't Want You And Hell Is Full".
Hell yes and welcome to Lila's review!
Last week we brought you an interview with Apollo from We Sell The Dead and today we would like to take the opportunity to introduce you to the band and especially your new album. "Heaven Doesn't Want You And Hell Is Full" to introduce.
When we were asked if we could talk about a new band called We Sell The Dead the first thing that caught our eye were the names of the band members and it was immediately clear to us that we definitely wanted to report on them.
We Sell The Dead are Niclas Engelin (In Flames, Engel), Drömrikets Jonas Slättung, Gas Lipstick (formerly HIM) and the voice of Apollo Papathanasio (Spiritual Beggars, Firewind) and with your debut album "Heaven Doesn't Want You And Hell Is Full" the guys take storytelling to a whole new level. They literally transcend the "conventional" by creating a multimedia experience of high quality heavy metal embedded in visually stimulating video footage.
The somewhat gloomy but very melodic sound is very distinctive here and is supported by the really good guitar playing as well as by Apollo's Singing duly underlined. During our interview said Apollo himself the following about the album and its sound:
"Heaven Is Full And Hell Doesn't Want You" is a blended mix of great music that affected us over the years by all the fantastic groups. All ideas we had in mind we empty from our souls, put it together and created a different approach of music. Jonas and Niclas had the basic ideas from the beginning and then the rest of us added our stuff.
It's heavy melancholic, very melodic metal. With a LOT of guitar and vocal harmonies. For us it sounds great and huge and we are proud of it."
If I had to highlight one track in particular, this would definitely be "Too Cold To Touch". The track went me at the first hearing directly by Marck and leg. Alone the atmosphere which is built up over the piano playing from note to note is pure goosebumps. When then Apollo's Voice adds, it truly feels like time is frozen. Absolutely Hammer!
As you can easily see, I definitely liked the album and the music of the still "dewy" band and we can only recommend to you We SellThe Dead to get to know it. Absolute purchase recommendation on our part. At this point, thanks to Yassi, for the fact that she has suggested the band to us and we are already looking forward to telling you, should the guys ever play in our area, from one of their concerts.
So that you can now also enjoy We Sell The Dead here comes one of their music videos:
Lila is out, be the beat with you!