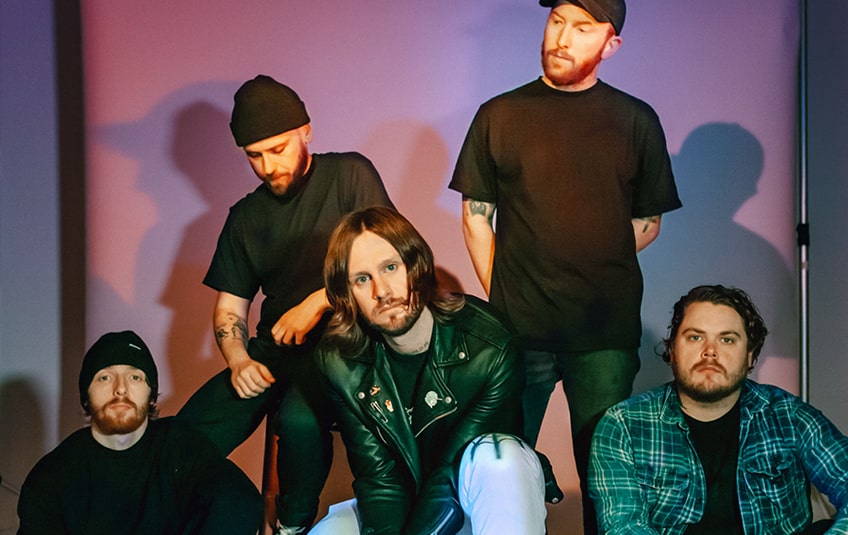 While She Sleeps release new single "Nervous" featuring Simon Neil of Biffy Clyro
The track embraces feelings that some may view as negative & the band hopes its ethos serves as a medical tool for those going through hard times
'NERVOUS' appears on WHILE SHE SLEEPS fifth album 'SLEEPS SOCIETY', which is scheduled for release on April 16.
WHILE SHE SLEEPS have released the latest single from their upcoming fifth opus "SLEEPS SOCIETY" released. This little taste of what is to come is a track called "NERVOUS", where Simon Neil from Biffy Clyro as a guest vocalist. It's a snapshot of fragility that explores the struggle with mental health and, in particular, draws on the guitarist's own experiences of Sean Long with anxiety. Ultimately, though, it's a song he hopes people will draw strength from when they're struggling:
"The song 'NERVOUS' is one that the band has been talking about since the first demo. It completely infected us from the beginning and we all knew right away that something very special was happening. I would even go so far as to say it's the most important song I've ever written in my life. It came out of the experience of the pain and suffering produced by acute anxiety, but also from the search for a way out, which, while I was in such a dark and terrible place, felt like the greatest pipe dream imaginable. I felt like if I hadn't written this song, someone else would have. It feels like it needs to be manifested into this world as soon as possible. I really think it will speak to people on a very personal, deep and meaningful level because I feel like it comes from a place beyond what we could call ourselves, and I feel like the song is much bigger than our band.
I would like 'NERVOUS' is considered more of a spiritual request and not just a song to enjoy. I'm talking about a specific emotion in this song, but the idea is applicable to any negative or disturbing emotion. It's about accepting your emotions, fears, pains, anxieties, depressions - not just accepting them, but owning them and becoming completely one with them. It's about being proud of all our emotions. The song literally tells you to be nervous, to be scared, to be in pain. By that I mean that a lot of our pain comes from the idea that on one side there's me and on the other side there's pain. So when the pain comes, somehow that "I" tries to get away from that pain. If we really think this through with clarity, we inevitably see that it is a futile endeavor. The moment we realize this, we can stop fighting and running away, and we can begin the healing process by feeling the emotions as if we wanted them in the first place. Once you stop fighting and pushing the emotions away, you realize that most, if not all, of the pain was caused by this attempt to split us in two. Most of the pain was caused by the fear of the pain itself and trying to get away from it. It can actually be a good thing to feel these emotions fully and experience this journey of acceptance. If we just sit with the pain a little longer, go fully into the darkness and feel it with every cell of our being, there is a chance that something wonderful will happen for the individual. What do we have to lose? This is exactly what 'NERVOUS'."
Simon Neil, whose guest vocals add another layer to the track, says: "I've been a big fan of what WSS do and how they do it for a long time. When Mat and the guys approached me to be a part of their new record, it was a no-brainer and Nervous is a towering statement for their new era. The way WSS decided to promote and release this album and the new model they are creating excites me for the future and I'm excited to be a part of it."
"SLEEPS SOCIETY" will be released on April 16 via Sleeps Brothers / Spinefarm Records. It is a true manifestation of WHILE SHE SLEEPS' extremely close relationship with their fans. Members of the band's new Sleeps Society subscription service get access to exclusive perks and get an inside look, and even input, into the album's recording process. Sean explains how part of that process went down: "We did a series of livestreams from the studio where the members were able to talk to us while we were in the development stages of different sections, giving us their input and vibes as different sections came to life. We also recorded a track completely live where the members were able to watch the entire process - that's going to be really cool because when the record is released and fans hear the song, they'll feel like 'I was there when that happened' and feel connected to the track. At 'CALL OF THE VOID' we asked members to send in recordings of them singing part of the song. The song features over 200 members of the Sleeps Society singing together. It turned out so cool and it feels so special to include the people who make it all possible in the music itself and actually include them in a song on the record."
"SLEEPS SOCIETY" Tracklist:
1. ENLIGHTENMENT (?)
2. YOU ARE ALL YOU NEED
3. SYSTEMATIC
4. NERVOUS (ft. Simon Neil)
5. PYAI
6. KNOW YOUR WORTH (SOMEBODY)
7. NO DEFEAT FOR THE BRAVE (ft. Deryck Whibley)
8. DIVISION STREET
9. SLEEPS SOCIETY
10. CALL OF THE VOID (ft. Sleeps Society)
11. DN3 3HT
WHILE SHE SLEEPS laid out the intent of Sleeps Society in their cinematic music video for the album's title track, Late 2020. As the band's 2017 top ten album. "You Are We" so eloquently stated, the fans have made the band the greatness it is today and will continue to do so. WHILE SHE SLEEPS reached a career milestone just over a year ago when they sold out their headline show at London's iconic Brixton Academy to promote their crucial 2019 album 'SO WHAT? to introduce. You are ready 'SLEEPS SOCIETY' on stage in May with a headline tour that is already almost completely sold out.
Press release: HEAD OF PR
Image source: Marcia Richards