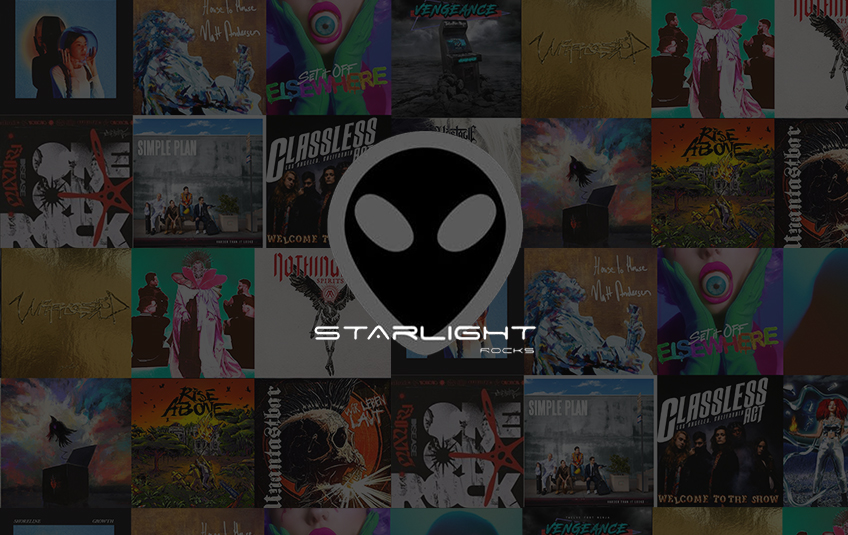 "Albums Of The Year" 2022 - These albums from the metal, punk and rock have accompanied us.
Hi my immortals,
The year 2022 is coming to an end and it seems a bit like yesterday when I first listened to the debut album of the band Classless Act, started with a band night season with BlattTurbo or experienced three incomparable days at Rock am Ring. Our entire magazine has enjoyed this year to the fullest and is looking forward even more to the next one, where we will surprise you with new music and artists.
At this point a huge thank you to you, my Immortals, for your support! Also a big thank you goes out to all our partners, who might find one or the other of your artists in our end of year report.
As a little present for you, my Immortals, who actively follow and read our posts, we have not only compiled a list of our "Album Of The Month", but also included a few insider tips that you should also listen to. With this list you will not only create a successful end of the year, but also have the right soundtrack for the start into the new year 2023.
Click here to go to the Spotify playlist for our "Albums Of The Year".
Our first "Album Of The Month", is that of Shoreline, who with "Growth" have released an authentic album at the beginning of the year. Raw punk meets melancholic melodies here, which deal with the deliberately chosen serious topics such as racism or climate crisis. With honest, direct lyrics, "Growth" is an absolute must for punk and post-hardcore fans.
If you like it soulful and feel at home in blues rock, you will get your money's worth: This year blues god Matt Andersen brought his latest album "House To House" and focuses with it the really important things in life like family, love or hope. It is an album to feel good, reduced to the most necessary, whereby the voice of Matt invites you to linger and switch off. Especially "Burning Lights" has brought us here through the rainy March and is still our favorite on this album.
Little insider tip from us: In March, both Matt and Set It Off released a new record. In their new album "Elsewhere", the band presents a coherent and multi-layered concept, where you not only feel transported back to Alice's Wonderland while listening, but are also transported live into another world. An absolute recommendation from us!
May was a strong month for albums, where it was really hard for us to choose our favorite for the month. Besides Silverstein, who created one of the best of the year with their album "Misery" and the Japanese rock band One Ok Rock, who hit the nerve of the time with "Luxury Disease", Simple Plan also released a new album, which also became our "Album Of The Month". "Harder Than It Looks" not only looks back on a successful world career, but gives insights to a band that honestly and unadorned tell of bright as well as dark hours in all this time. It is an album that deals with the growing of challenges and shows how important it is to accept oneself. Simple Plan have once again created an album for their fans, which is in the usual pop punk, pure medicine for the soul.
A good cue for Classless Act, whose music literally speaks from the soul. Their new album "Welcome To The Show" is not only the epitome of a modern rock album, but also a statement for rock music itself. After the release of this album, it is clear that rock is not dead, but has a new leader. Classless Act play in such a clear, classic rock manner that you can't believe this is only their debut album. Also one of our absolute favorites this year.
Another album that came out in June and didn't let us go is "Supernova" by Nova Twins. The exceptional band consisting of the friends Amy Love (vocals / guitar) and Georgia South (bass). The two "Twins" have published with this, their already second album and thus again proved what geniuses of their craft they are. The two have succeeded here a theme album, which once again uses a completely different sound and brings out the best of their creativity. Again, an absolute recommendation, especially live!
Twelve Foot Ninja have been with us for quite a long time, they are one of the bands we started our magazine with. When we finally got the news that they were releasing a new album, it was clear to us that they had used the long break between "Vengeance" and "Outlier". Their familiar heavy fusion sound meets 8-bits, 80s melodies and electro sounds here that we haven't heard in this combination before. Twelve Foot Ninja have this certain feeling for connections between individual genres and feed these into their creative process. Unconventional, chaotic and yet strongly focused, Vengeance" is a highlight, is a highlight that you should not miss.
One band that has stuck in our minds this year is Unprocessed. With their debut album "Gold" , the band has released a captivating journey that combines modern directions in contemporary music with a groovy metal sound and a blazing passion that is just beginning to glow. The band has created an atmospheric work that is a must-have especially for fans of artistic guitar riffs.
In September, the album of Highly Suspect, Highly Suspect, "The Midnight Demon Club", followed with a suitable concert, in which the band invited to enter it. It not only passes genre conventions, but also lets you literally dive into the world of "Ice Cream Reapers" that the band has created. An endless and exciting sound adventure that we still enjoy listening to even now.
Nothing More is what you could call a force of nature in music. The band from Texas, who we had the pleasure of meeting ourselves at one of their concerts, released their latest album "Spirits" in October, following up on the success of "The Stories We Tell Ourselves". It's not just an album that sums up their sound, but a story told that leaves the listener speechless. Nothing More has spun so much passion, time and energy into the concept of this album that you can literally feel it through every note. This band is on the direct path to the top and took another step towards it with "Spirits".
One of our absolute newcomer highlights of the year: Hostage. The band with German roots has released an incredibly good debut album this year that makes the hearts of metal fans beat faster. Metalcore in Germany gets a new meaning here, where the band can especially shine with a continuous perfection and authenticity that we have seen so rarely. Their album "Memento Mori", a structured chaos at the highest level.
In November we came across a band, BRKN LOVE, that we had heard in advance and were even more excited to welcome their latest album "Black Box" before its release. "Black Box" is raw, deep rock that haunts and accompanies you in your darkest hours. The anger that resonates especially in the younger generation and the despair of all is transformed here into loud sounds that detach you from these feelings. Rough and energetic, this is a work that will remain relevant in 2023.
Our last "Album Of The Month" for this year is Rise Above with "Times Of Clarity". A good mix of aggressive rhythms and melodic precision, is what Rise Above are all about and mark for themselves with their debut album. In this one you get to hear a band that doesn't commit itself, combines different musical styles and still carries a distinctive sound to the outside. Rise Above have created a really good, versatile album, in which there is certainly something for you.
A little tip for all those who miss the punk: Unantastbar released their latest album "We live loud", on December 30, which not only offers a good end of the year, but also a good start into the new year. Absolute recommendation from us!
My Immortals, I really hope that this little tour through the year has called one or the other soundtrack or moment back into your head. The little nostalgia trip has definitely given us the necessary kick for the next year. Let us know which albums you like the most or which ones you think are still missing.
Our magazine is looking forward to your tips and wishes you a good start into the new year.
Lila is out, be the beat with you!